RIP, Larry Nemer SVD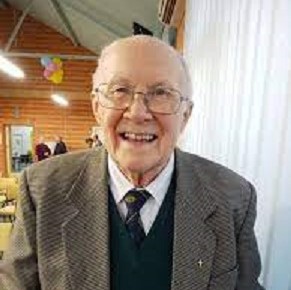 MSC Melbourne would like to pay tribute to a good friend and colleague, longtime presence at YTU, host (and chef) for Field D Department meetings at Dorish Maru, Divine Word formation house, lecturer for our MSC students in recent years.
Message from Fr Rass SVD, Provincial.
It is with our deepest sorrow that we inform you of the death of Fr Lawrence Nemer (Niemierowicz) SVD who passed away peacefully this morning, the 9th of June at about 5am, at the Seventh Day Adventist Hospital. Sydney. Fr Larry never fully recovered from a fall in his bathroom a few weeks ago. At that time he was admitted to the hospital and later when he had recovered a little, was brought to St. Catherine's Aged Care Home so he could receive full time care.
His final days were filled with regular visitations from Fr Nick de Groot SVD, Vice Provincial, and Fr Raja Reddy SVD, Rector of Marsfield and other confreres. On Sunday the 6th of June, I went with Fr. Raja to see him in the evening. We talked to him and also managed for him to talk to his sister in Chicago. We brought him communion at that time and had the Anointing of the Sick administered. We told him of the many prayers offered for him from so many friends, colleagues and relatives locally and abroad.
He died peacefully on the Memorial of Saints Marcellinus and Peter. May he rest in Peace in the arms of the Lord as we thank Larry for the many years of generous service as a Divine Word Missionary.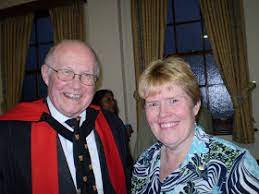 Dear friends and colleagues,
our much-loved and respected Larry Nemer died at 5 a.m in Sydney yesterday morning and has now been received into God's gentle and loving embrace. He has given YTU so much as kind, wise, and gentle teacher and mentor. In 2008 he very generously took on the responsibility of being President of YTU so that I could have a sabbatical prior prior to taking up the position - this was typical of how he lived.
When he first came to YTU he took every faculty member out for a meal so that he could get to know us and introduce himself. His hospitality was legendary and his annual meal for the staff of YTU and OVC was always a welcome reminder that Christmas was just around the corner.
Coming to YTU from CTU in Chicago he brought a depth of experience and helped us all broaden our vision and horizons. As an educator he loved passing on his love of the gospel and the church's history and mission. His classes were always full and his love for his subject was infectious. He would always turn up to class resplendent in jacket and tie because he wanted his students to know just much he respected and valued them.
Larry loved people and people of all walks of life loved him. He has shown us God's compassionate heart and we are so much the richer for it.
We will hold him gently in our hearts and prayers