Chevalier Institute is a ministry of the Missionaries of the Sacred Heart in the Australian Province. It is a centre for formation in the Chevalier Family's Spirituality of the Heart to adults in MSC ministries, especially colleges.
Our Team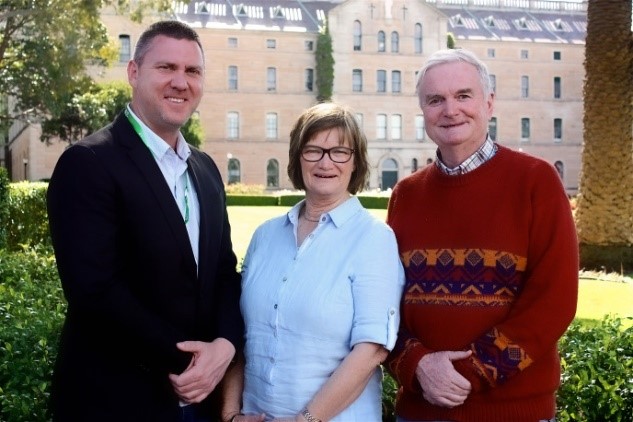 Brett Adamson, Alison McKenzie, Bob Irwin mscChevalier Institute was established in 2003. Presently there are three members of the team working in the Institute: Mark McGinnity msc Director of MSC Education, Alison McKenzie Director of Chevalier Institute and Brett Adamson part time assistant. Our offices are based in the Chevalier Resource Centre at Kensington, NSW.

The Institute works in close alignment with those who hold the AP Mission role in our Colleges, and programmes are co-facilitated by the Director and any one of the AP Mission team. In addition, Chevalier Institute draws deeply on the wisdom and experience of many professed MSC.
Our Vision
We follow the vision of our founder, Fr Jules Chevalier, who recognised the importance of the laity, alongside professed and religious, in sharing the believe in a God of love, revelaed in the heart of Jesus, as the remedy for the ills of the world.
We work with language and ritual that is accessible to all people, including those not necessarily aligned to the Catholic, Christian tradition, inviting them to recognise the gentle presence of God in their hearts and to allow that presence to transform their lives. We offer the way of Jesus as the pathway to experience more deeply the presence of God. We draw from our Catholic tradition and beyond, from scripture and conteporary culture to create experiences that assist people in their spiritual journey.
Our Principles
To fulfil the vision of the Chevalier Institute, we are committed to facilitating formation that:
takes account of the lived reality of lay people (past and present) and their diverse spiritual journeys and engages the charism in a meaningful and relevant way;

follows sound adult learning principles and acknowledges respected theories of human development (physical, psychological, spiritual & emotional development). This is an ongoing process, requiring both time and resources;

respects and actively acknowledges the inter-relationship between body, mind and spirit;

up-skills and forms 'formators' so as to empower them to facilitate formation in their local contexts;

seeks out and makes available resources that are supportive of our mission and vision;

plans and offers a range of liturgical experiences as an integral part of all formation experiences.
Our Programmes
Click here for the latest programmes: pdf Chevalier Institute 2020 Brochure (1.58 MB)