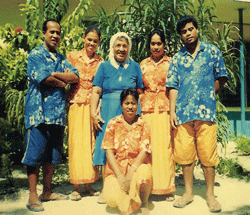 Staff of St Paul's Catholic Centre, Kiribati.
Centre is the previous director, Sister Teneti OLSH; left is the new lay director, Iatinta.
Until now, the St Paul's Centre in Kiribati, the audiovisual centre, had as its director a Daughter of Our Lady of the Sacred Heart. The director is now a laywoman. Fr Ruatamaki MSC acts as chaplain (and is a musician).
World Communications Day was the date for the new Heart Radio transmissions.
Australians are not always familiar with life of Kiribati.
For further information about the centre and its work and a report on Heart Radio by its technical advisor, Tooto Kabwebwenibeia,
click on the photo above.