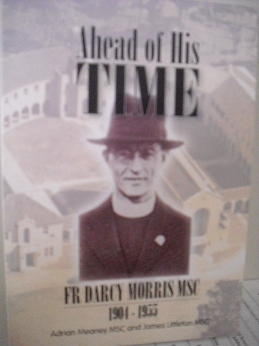 June 23rd is the anniversary of the death of Fr Darcy Morris MSC. He died in 1955.
Last year Fr Jim Littleton MSC (with Adrian Meaney MSC) published a short book on Darcy Morris. It seemed an opportune moment to bring the book to our site visitors' attention in case they missed the notice before. Jim Littleton also published a small book on Sacred Heart Monastery, Croydon, Victoria. Darcy Morris features in the early part of that history when he was on the staff. He is also buried there.
These are just two of the books that Jim Littleton has produced in recent years. They include two books outlining the lives and ministries of dead confreres up until 2006. There are short histories of MSC work in Tasmania, New Zealand, the Torres Strait and one on MSC military chaplains.
A history of Canberra Monastery is forthcoming.
This series offers a great opportunity for congregation members but also for all those interested in MSC history to discover more. They also offer a basis for more detailed history.
For more information, contact Fr J.J. Littleton at Daramalan College, Dickson, ACT 2602.
This email address is being protected from spambots. You need JavaScript enabled to view it.