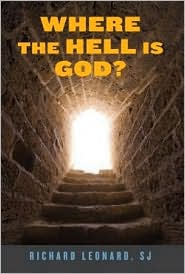 WHERE THE HELL IS GOD?
Richard Leonard S.J.
Where the Hell is God? has been very successful in sales in English-speaking countries. Its beginnings go back to the tragic accident outside Port Keats in 1988 which resulted in Richard Leonard's sister, Tracy, becoming quadriplegic. Tracy had trained as a nurse, had gone to Kolkotta to work with Mother Teresa, then, at the time of her accident, was working with the Daughters of Our Lady of the Sacred Heart at Port Keats. This family suffering led him further into reflections about God and the mystery of human suffering.
The book is short, but has many valuable reflections on the way that different people imagine God and God's will. Richard is able to use clear language and some down-to-earth images to suggest other ways of appreciating God and the depths of God's love.
After launches of the book in New York, London and Sydney, there was a launch in Melbourne on July 22nd where Richard spoke movingly of his sister and what her accident has meant to her and the Leonard family for over two decades.
Richard is director of the Australian Catholic Film Office.