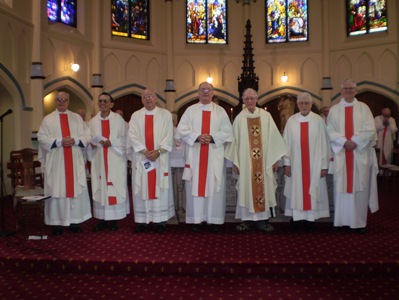 The celebration of the 2011 jubilee of ordination took place at Sacred Heart Monastery, Kensington, on July 23rd.
For Fr Bill Cunningham, it was sixty years of priesthood.
From left to right in the photo, it was Golden Jubilee for Adrian Meaney, Russell Andersen, Kevin Barr, Paul Castely, Patrick Sharpe and Michael Fallon. Brian Taylor celebrated in Japan.
The group joined around the jubilee cake, then for the cutting of the cake.