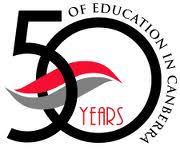 50th Anniversary Jubilee information
The College opened on 30 January 1962, with 240 boys in primary Grades 5 and 6 and secondary Form I.
Father McMahon was the first Headmaster, as well as Superior of the MSC Monastery, which was located on the Federal Highway Watson.
The name "Daramalan" interpreted as "eagle-men" and was used by some of the neighbouring aboriginal tribes to indicate the Great Spirit. For the Missionaries of the Sacred Heart, it was also a symbol of St John the Evangelist. The name "Daramalan" was chosen as the name for the College as the eagle was seen as a fitting symbol of the School and its attempt to lead our students to God.
On the Daramalan badge, the red wedge-tailed eagle with wings outspread represents God protecting the College students in the tradition of the aboriginal tribe.
The crown above the shield and the rays of light on which it rests represent Our Lady's interest in the College.
The motto of "Fortes in Fide", which came from the writings of Father Chevalier about what the MSC should help students to become, was also adopted. The phrase came from the New Testament letter of St Peter.
50 years later the same ethos and principles laid down all those years ago are still central to a students education at Daramalan in 2011.
There will be many events and celebrations planned for the College this year.
• For ex-staff It wil commence at 6.00pm until 8.00pm. There will also be tours of the College from 5.00pm. If you would like to attend please contact the College on (02) 6245 6300 or by email to <This email address is being protected from spambots. You need JavaScript enabled to view it.> by 23 March. If you know the whereabouts of anybody who has worked at the school over the last 50 years, please direct them to this web page.
• A book is being written about out first 50 years and we are seeking input from past students for their memories and anecdotes relating to their times here. We are specifically looking for 300 words from a student from each year on what Daramalan has meant to them in their later life. These can take the form of general observation or a specific example of an event that defined their Dara experience. If you would like to contribute please contact the Jubilee Office at <This email address is being protected from spambots. You need JavaScript enabled to view it.>.
• Student Reunion Dinner and Weekend
There will be 50th Jubilee Dinner on Saturday 20 October 2012. This dinner will be a celebration of our first fifity years and plans are currently being finalised. Tickets will go on sale very soon, but, as numbers are limited, will be sold on a strictly first come/first served basis. The tickets will be sold directly via the Alumni website or in person from the College Reception.
The Dinner will be followed by a Mass and Family Day at the College on Sunday 21 October, which will feature the opening of the new College Technology Wing replacing the current Lysaught building.