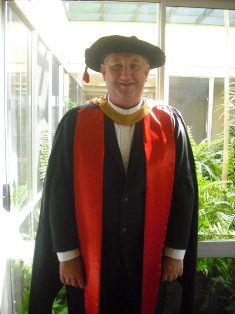 Fr Stephen Hackett MSC was awarded a Doctorate in Philosophy on March 15th. His thesis was written for the Faculty of the Built Environment of the University of New South Wales.
The title of the thesis is: The Architecture of Liturgy: Liturgical Ordering in Church Design; The Australian Experience in Perspective
The thesis, with many illustrations, explores the theme of spatial arrangements for the celebration of Christian Liturgy, with attention to design, examples coming from churches in Malvern, Horsham, Woy Woy, Caringbah, Kingsgrove and Charnwood.
Stephen's parents attended the graduation.
Stephen is parish priest of Camp Hill, in Brisbane. He serves as Chair of the National Liturgical Architecture and Art Board which is an advisory board to the Bishops Commission for Liturgy.