The ABC TV Compass program for April 1st was called A Church Divided. The three central issues were the new translation of the liturgy, the pastoral situation in the diocese of Wilcannia Forbes, and Domus Australia.
In the central section on Wilcannia Forbes, the program crew had gone to Balranald where Pat Austin MSC has been parish priest since 2006. Pat was interviewed and spoke of the life of the parish in 2012. There were extensive shots of him celebrating the Eucharist in the parish church as well as his meeting the people. There were also some shots of him working in his vegetable garden. In the context of the program and the needs of the diocese (with interviews with Bishop Kevin Manning who, in his retirement, is administrating the diocese), Pat's comments were well-spoken and pastorally-minded.
For those who would like to catch up with Compass, it is on line for 13 days.
Google or search for ABC TV, click Iview, then 'Continue to Iview' where you will find the most recent programs. Compass has a picture of Geraldine Doogue and you can press 'View'.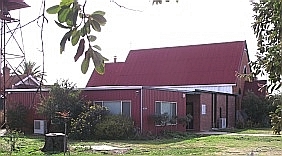 St Dympna's parish church, Balranald, New South Wales, diocese of Wilcannia Forbes.