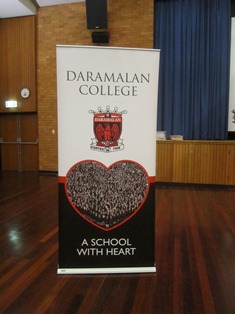 Daramalan College is celebrating 50 years. On the evening of April 13th, a social function was held in McCowage Hall for staff, past and present. Around 200 attended, including past principals, Fr Jim Littleton MSC, Fr Bob Irwin MSC, Fr Denis Uhr MSC, Mr David Garrett, along with present principal Ms Rita Daniels. Previous principals, Fr J.F. McMahon, Fr John McCowage and Mr Frank Fulton are deceased.
In the early years of the college, a great number of MSC, priests, brothers and scholastics, taught or worked at the college.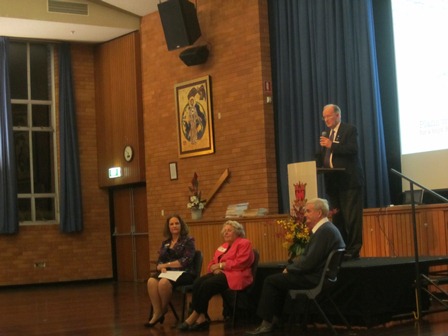 Speakers at the evening were Fr Littleton, Fr Irwin, Ms Rita Daniels and a lomg-serving member of the original staff, Mrs Jean Reid (pictured).
Fr John F. McMahon, founder of the college, was remembered. Daramalan came into being at the request of the then Archbishop Eris O'Brien of Canberra-Goulburn who wanted a Catholic Boys High School on the north side of the city. The College had upper primary classes and developed full secondary curriculum in its first years. Later, the college would become a co-educational school.
Photos: Philip Malone MSC