In his homily at the Requiem Mass for Fr Jim Moore MSC, Fr Bill Cunningham reminded the congregation of a Papua New Guinea missionary story from the 1950s, one from Eastern Papua. It concerned a missionary from Austria and three of her children who came to work at Sideia.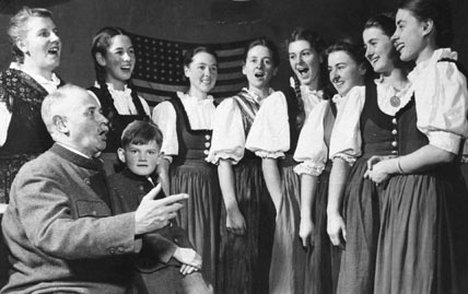 In the 1950s, Rodgers and Hammerstein's musical, The Sound of Music, had been staged on Broadway with Mary Martin as the novice Maria who would become the wife of Captain Von Trapp. The Broadway recordings were available. But, then, of course, the film of The Sound of Music was released in 1965, won an Oscar for Best Film of the year, and made box-office history. It played at the Paris theatre in Liverpool St, Sydney, for over three years. So… a movie connection between the family in The Sound of Music and the family working in Milne Bay. Maria von Trapp was there for 18 years.
"When Jim Moore first arrived at Budoya in 1956, he was to teach in the local school in the mornings and learn the local language "ena Dobu" in the afternoons. In November 1956, 3 members of the Trapp Family, Maria, Rosemary and Johannes arrived and relieved him of his duties in the school. Maria worked as a lay missionary in Milne Bay for 18 years and Jim knew her story well from personal experience and continued contact with her when she returned to New England USA about 1967. They were still corresponding in 2007." Bill Cunningham.