Allan Myers QC, past student of Monivae who has made significant contributions to the school, recently received an Honorary Doctor of Laws. During his speech afterwards he gave mention to the education he received at Monivae College and he highlighted the personal impact of the teacher in education as distinct from class size, resources etc. He spoke with real appreciation of Monivae and paid tribute to Patrick O'Carrigan who taught him Latin for 8/9 years and he noted also that he, Fr. Patrick, was an accomplished artist.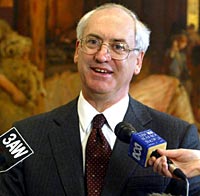 Mr Myers is involved in a High Court case this week, working for the Tobacco Companies in their suit against plain wrapping of cigarettes.
The Fairfax Papers' report was rather tongue-in-cheek and, in The Age, had a Tandberg cartoon with Mr Myers appealing to the judges: 'My clients' business will suffer a long and painful death and deserve compensation': "The judges dutifully followed Mr Myers's instructions to remove the cellophane, to feel the surface and design of each pack and to open the top, where they would find a patented resealable lip that pulled back to reveal the cigarettes. Then they followed the barrister's invocation to pull a cigarette from their packs and to find the word Winfield printed on the paper holding the tobacco.
All these were the exclusive property of a tobacco company, Mr Myers argued, trademarked and copyrighted. Under the federal government's plain packaging legislation there would, after December this year, be no embossments or embellishments on the packets, no nifty little resealable lips, no designer colours. The packet would be nothing more than a box in a drab olive colour, described by the government as brown, 70 per cent of it covered with health warnings and not a trademark anywhere.
Mr Myers's point on behalf of British American Tobacco Australasia was simple enough, though it took time and a QC to argue it - the government, under its plain packaging act, wanted to acquire tobacco companies' property and ''sterilise'' its right to use its trademarks and to offer no ''just compensation'' for doing so."

This report was by Tony Wright whose articles appear frequently in The Age, often with the sardonic touch. He is also a former student of Monivae College.