This interview is re-produced from Pathways, April 2012, the on-line magazine of Catholic Religious Australia (CRA), the organisation of leaders of religious congregations. With permission.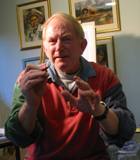 Father Paul McCormack will never be bored. The Missionary of the Sacred Heart (MSC) priest is a teacher, musician, sports coach, and in more recent years has added painting and drawing to his portfolio.
Father Paul loves learning. A teacher of religion and values at Toowoomba's Downlands College he plays piano, guitar, cello and flute and is currently learning the saxophone. As a musician he is very involved with music and liturgy at the co-educational day and boarding school, and particularly loves to orchestrate the hymns and songs for school liturgies and compose music for ensembles. He has a passion for sport and coaches rugby union, cricket and athletics at the Missionaries of the Sacred Heart college. About six years ago he added painting and drawing to his busy timetable.
While he has always had a keen interest in art and dabbled in drawing, it wasn't until a sabbatical after 25 years in the priesthood that he had the opportunity to explore it more formally. Since taking part in a summer school introduction to water colour in 2005 at the University of Southern Queensland, painting and drawing has become a regular part of his life.
Over the past six years he's had solo and joint exhibitions of his work and has won several prizes in local shows. He also gives workshops to local art groups, and has made a lot of artist friends.
A hobby he fits in where he can, Father Paul says juggling his time between ministry, classes, music, sports coaching and art is something he has grown used to.
"I try to organise my timetable and my day to include the things that are important and that are my responsibility," he says.
Many in the Downlands community have been subjects for Fr Paul, who enjoys using pastels and the challenge of painting a portrait.
"I think the challenge is to capture more than a likeness," says Fr Paul. "A photo can do that but I like to capture something about the person that is their personality or character. I like the painterly way of building up colour and tones with confident brush strokes which finish up being an impression of the subject. It is a difficult skill to master."
Now 64 he feels there is a natural relationship between his ministry as Catholic priest and his music and art.
"For me, all things work together for one purpose. Finding the beauty in creation whether it be in people or nature is part of the ministry of the priest or disciple of Jesus. Recognising the giftedness of others and the beauty that is everywhere is part of the mission of love.
"Whether I am teaching or preaching or playing music or painting a picture we are all part of 'God's work of art'. God is the chief musician and the supreme artist. For the beauty that is everywhere around I gladly give thanks."
To view some of Fr Paul's artwork go to: http://www.paulmccormack.com.au