Details

Published: Monday, 27 March 2017 22:22
NEW BISHOP OF KEREMA PNG, SALESIAN FILIPINO.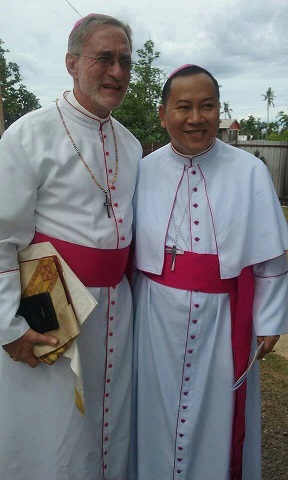 We are indebted to the indefatigable PNG episcopal Facebooker, Rochus Tatamai MSC.
Congratulations to Bishop Pedro Baquero Jr.sdb. He's the 4th Bishop of Kerema after Archbishop Virgil Copas MSC, Jean Paul Marx MSC, Patrick Taval MSC.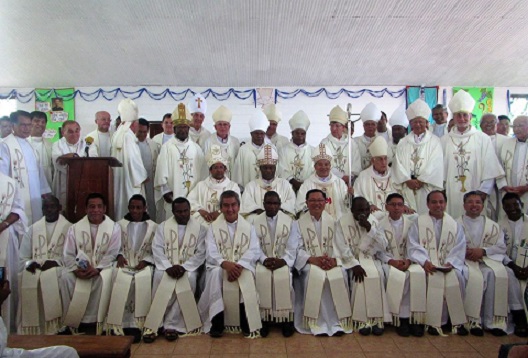 March 25, 2016. Cathedral of Kerema, Gulf Province.
On this solemnity of Our Lady's Annunciation, where all vocations (lay, religious, priestly, episcopal) find their inspiration, the Diocese of Kerema as well as the whole Catholic Church rejoices at the consecration as bishop of Pedro Baquero Jr. as the 4th Bishop of Kerema.

It is also the first episcopal consecration of a bishop in the hard-to-reach town of Kerema. Despite the distance and the difficulties, 15 bishops, including 4 archbishops, among whom was ordaining prelate His Eminence John Cardinal Ribat, and around 40 priests concelebrated in this historic event for a diocese that waited 4 years before having again a local ordinary. The parents, 2 siblings and some friends of the new bishop were also there for the occasion.
The new Bishop of Kerema adopted the motto, "Caritate et Misericoria," which can be variously translated as "from, with, by, in Charity and Mercy," referring to the Salesian bishop's desire to continue to be a sign and bearer of God's love and mercy for his people.
It was great blessing with the presence of Bishop Pedro's mum and dad and a sister and brother of the 11 siblings. The Salesians of Don Bosco were in attendance with their full support and commitment to their confere as well as to the Diocese of Kerema and the Church in PNGSI.
With the presence and concelebration of 13 Bishops, the Apostolic Nuncio, Cardinal, Archbishops the Diocese of Kerema finally received a chief Shepherd after waiting for almost 4 long years. Congratulations to the people of Kerema with the priests and Religious for at last you're all grace with a new Bishop who had taught many of your children who were students at Don Bosco Araimiri.
Congratulations Bishop Peter Baquero sdb after I posted a short account of the day's significant occasion for the good of the Diocese of Kerema and drew positive responses from many faithful.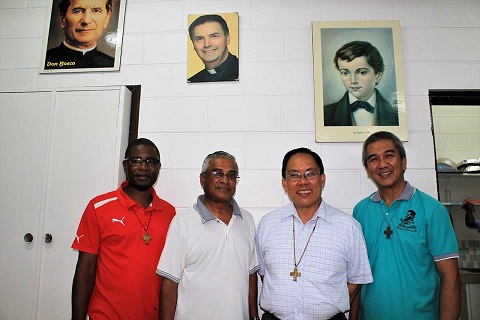 Notably is the overwhelming joy of so many to know at last Kerema now has shepherd. Thanks to Bishop Peter Baquero sdb for the souvenirs a worthy gift for the Bishops the specially made stoles and vestments for the occasion that every bishop in attendance took back to their various dioceses a fitting souvenir to always be united and pray for the people and leadership of Kerema Diocese.