Current News
Details

Published: Sunday, 18 August 2019 22:10
BEST WISHES TO THE MSC DUTCH PROVINCE, 100 YEARS THIS WEEK.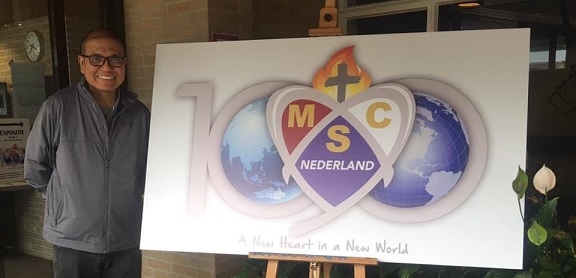 Our confreres in the Philippines, website and Facebook, offer a great deal about MSC life in the Pacific. The photo above, with Filipino Provincial, Bogey Cabrera, appeared this week, along with the letter to the current Dutch provincial, below, from Ray Sabio, from the Philippines and former Vicar Apostolic of the Marshall Islands. He reminds us that the Dutch Province has an outstanding Mission history, leading to Provinces in Indonesia, Philippines and in Brazil.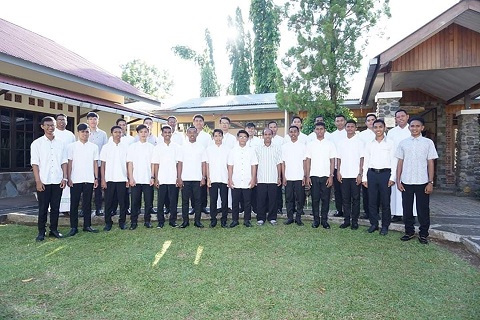 And, during the week a nice Providence, news and photos of the new Postulants in the Indonesian Province - only 25 of them!! An example of the heritage continuing.
And, checking with official MSC Documents, we find that in 1894, a Province with the Latin name of Provincia Septentrionalis was erected which included communities in the countries of North Western Europe. The Dutch province emerged from that group, August 15th 1919 (quick administration within a year of the signing of the Armistice, November 11th 1918).
A JOYFUL AND GRACE-LADEN CENTENNIAL CELEBRATION OF THE MSC NEDERLAND PROVINCE (AUG. 10-15, 2019)

Dear Fr. Provincial Superior Theo te Wierik, MSC.
Peace and grace of our Lord and Savior Jesus Christ. Today is the Feast of the Assumption (Aug. 15, 2019). We send our heartfelt felicitation on the occasion of the 100th Anniversary of the Nederland MSC Provincehood. We do acknowledge the fact the fact the Nederland Province has done exceptionally well in the MSC Family having produced the Provinces of Sao Paulo, Indonesia, Philippines, Rio de Janeiro, with Korea as a grand-son. We render special tribute to all the Dutch MSCs who worked heroically in the Philippine mission since 1908.
Our ardent prayers, warm regards and best wishes for continued good health and joy-filled life to all our MSC Fathers in the Nederland specially: Fr. Jan Schrama (our Scholasticate Rector), Fr. Ben Verberne, Fr. Ton Zwart, Fr.Harrie van Engelen, Fr. Henk de Heij and Fr. Jacques Janssen. Our two Dutch MSC's here in the Philippines: Fr. Kees Swinkels and Fr. Ad van Hest happily join you all in this big centennial celebration in spirit. And may the Sacred Heart of the Good Shepherd grant us the grace to follow the way of his Loving and Shepherding Heart.
Yours sincerely in Corde Jesu, Raymundo T. Sabio, MSC (Prefect Apostolic Emeritus)