Current News
Details

Published: Monday, 29 July 2019 22:20
HINDMARSH, NEW BOOK BY JIM LITTLETON MSC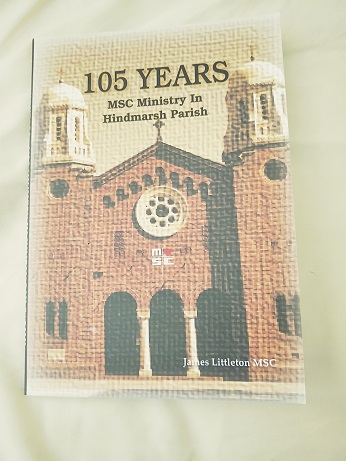 On the occasion of the handing back of Hindmarsh parish to the Archdioces of Adelaide. Jim Littleton has produced a book on the MSC work in the parish and the men who worked there. The last item before the posting gap was on the withdrawal from Hindmarsh - we intended to follow up with this news of Jim's book and a timeline of the parish history.
Here it is.
As with Jim's other books, it is available from Treand House, Coogee.
We list the chronology of the parish and the MSC involvement.
Remembering 105 Years of Ministry
1913 First MSCs, assigned to help in administration of Cathedral Parish. Given the choice of Brompton or Glenelg : chose Brompton

1914 Tuesday 20th Jan, MSCs celebrated first Mass in Brompton

252 Port Road Hindmarsh : site of Sacred Heart Church : purchased (site was a Tannery)

First Mass Centre at Henley Beach : a community Hall in Henley Square

1916 Presbytery at 252 Port Road : foundation stone laid and blessed October

1919 Henley Beach : first church built : Our Lady of the Sacred Heart
1922 Henley Beach : foundation stone laid Sisters of Mercy Convent and School : Seaview Road
1924 St Saviour's Church Hindmarsh blessed and dedicated 9th November … acclaimed as the 'most beautiful church in the diocese'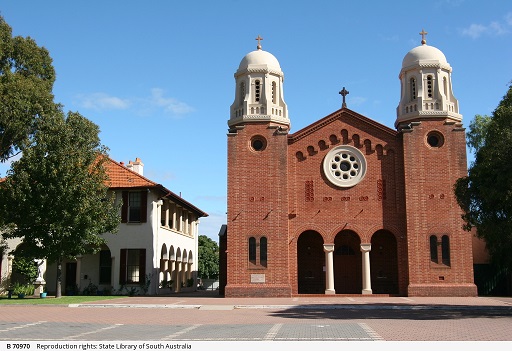 1928 St Joseph's School and Convent : Sisters of St Joseph : moved to Grange Road Hindmarsh from corner Port Rd and Chief St Brompton
1929 Flinders Park : St Columba's Church/Hall : Foundation Stone laid Henley Beach : Our Lady of the Sacred Heart : New Church opened
1949 Flinders Park : St Columba's Church renamed St Joseph's
1950 St Saviour's Church Hindmarsh renamed and dedicated as Sacred Heart Church St Joseph's School Flinders Park : Sisters of St Joseph : opened
1951 Immaculate Heart of Mary Church/School Brompton : Our Lady of the Sacred Heart Sis ters : blessed and opened
1954 St Michael's College and Chapel Beverley : De La Salle Brothers : opened
1957 Henley Beach became separate Parish
1958 Henley Beach South : Blessed Sacrament School/Church opened
1961 West Beach : St Bernadette's Church : opened Grange : Church of the Most Precious Blood : opened
1967 St Michael's College Secondary Campus Henley Beach opened
1968 Henley Beach : new church opened : still called Our Lady of the Sacred Heart
1971 Siena College Findon opened : Dominican Josephite and Mercy Sisters
1976 Canossian Sisters arrive to work with Italian Community
1978 Tannery/Hall at Hindmarsh demolished (condemned by Council) and new Hall built
1979 Flinders Park : St Joseph's Church celebrated 50 years
1984 Vietnamese Community established at Sacred Heart Church
1992 Present Henley Beach built : Our Lady of the Sacred Heart Community Centre
2004 Sacred Heart Church Hindmarsh celebrated 90 years
2007 Henley Beach Parish celebrated 50 years as Parish
2007 Nazareth College Findon opened : Josephite Sister on staff Our Lady of the Manger Church Findon rebuilt
2014 100 Year Centenary of MSC presence and service in Adelaide
2019 End of an Era, 30th June, 2019.
The MSC chapter hands back the Hindmarsh-Findon Parish to the Adelaide Archdiocese.