Current News
Details

Published: Sunday, 28 July 2019 22:34
HAROLD BAKER MSC, 70 YEARS ORDAINED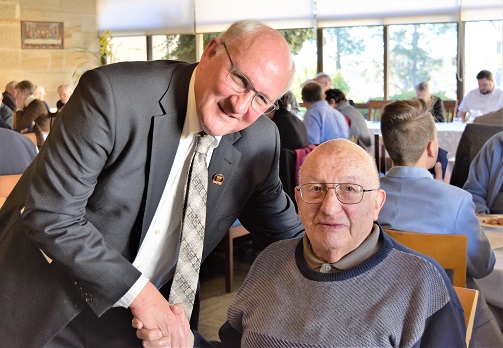 While our website was being restructured, we were unable to note a happy celebration on July 24. We make up for lost time as we congratulate Harold Baker, senior professed member of the Australian Province, 70 years ordained.
The above photo is up-to-date - from the recent Douglas Park celebration of Barry Smith's Golden Jubilee of profession.

Harold has spent these priesthood decades in MSC education, at Chevalier, at down land is (where he was the principal) and, long time in Canberra at Daramalan.
A note of gratitude – Harold was in charge of the Leading Certificate year at Chevalier in 1956, 63 years ago where he was in charge, of amongst others, four boys who became MSC, Tony Arthur, Terry Herbert, Peter Malone, Doug Smith.
Whoever wished Harold Ad Multos Annos when he was ordained has had their prayer and good wishes abundantly fulfilled!