Details

Published: Monday, 24 June 2019 23:00
MSC PHILIPPINES FORMATION NEWS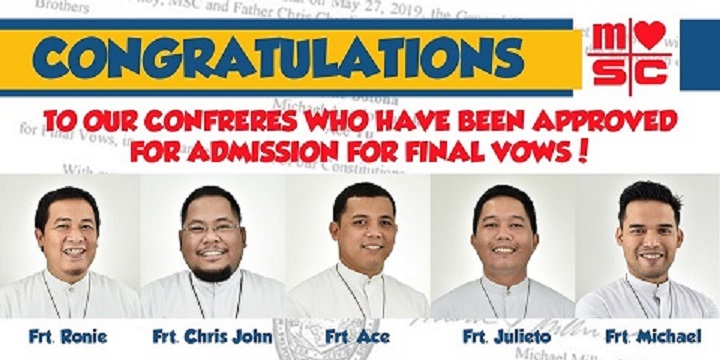 The Philippines Province has several Facebook pages including one from the Scholasticate community and another on Vocations promotion.
Here is a news item on those approved for final vows.
MSC Scholasticate Community-Philippines
It is with great joy that we share this wonderful news that five of our confreres have just been approved by the MSC General Administration for admission for the Final Vows!

Congratulations Frt. Ronie Botona, MSC, Frt. Chris John Abastas Awa, MSC, Frt. Ace Yu, MSC, Frt. Julieto Odtojan Amaneo Jr., MSC, and Frt. Michael Angelo Acera Dacalos, MSC!

Ametur! — feeling blessed.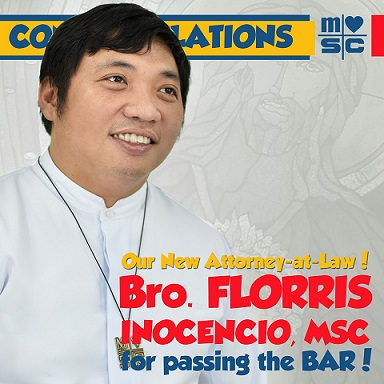 And another story on a different graduation,
CONGRATULATIONS TO OUR CONFRERE!!!
Our NEW ATTORNEY-AT-LAW, BRO. Florris V. Inocencio, MSC!

Today, we have received the great news that Bro. Flo passed the 2018 BAR EXAMS. We thank God for this great gift and to all of you who have prayed for Bro. Flo's success as well as the rest who passed the Bar.

And they promote MSC vocations with quite a number of posters


_________
Join us in a mission that simply knows NO LIMITS!
Be a Missionary of the Sacred Heart, priest or brother.