Current News
Details

Published: Sunday, 16 December 2018 22:57
REFLECTION ON SOME WALKING: PAUL CASTLEY MSC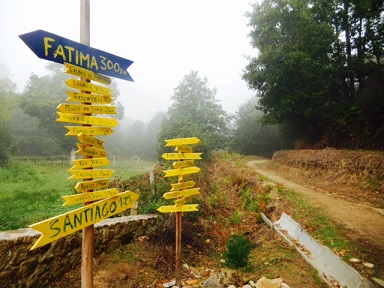 On a huge hill,
Cragged and steep, Truth stands and he that will
Reach her, about must, and about must go.
And what the hill's suddenness resists, win so;
John Donne Satyre 3. 79-82
Those powerful lines became my theme song as I walked, first, the Camino Portugues from Lisbon to Santiago de Compostella from July 6th to August 15th and then the Via de San Francesco from La Verna to Assisi from about August 28th to September 11th I quoted the above lines to two Swedish women two days before I arrived in Assisi. Many a time, on both paths, I would see the track rise up before me. As I trudged up I would pray most devoutly and fervently that, when I rounded the bend above, I would see the summit just ahead. Many a time, I wold be frustratingly disappointed and would have to urge the tired legs to make one more upward shuffle, and then another and then another!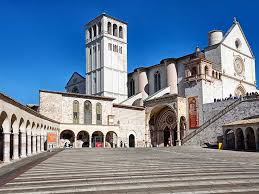 No wonder one of the prayers I frequently muttered was the beautiful phrase from Psalm 42 v 5: 'Why are you cast down my soul? Why groan within me? Thrust in God. I will praise God still.'
A day out of Santiago de Compostella I was asked why I was doing the Camino. I was a bit flippant, answering, 'You know what Sir Edmund Hilary said when asked why he climbed Mount Everest.' My companions knew the answer, 'Because it is there.' Was that my reason for venturing upon these two pilgrimages? Why were these Swedish women doing the Via de San Francesco? I didn't think of asking them though I assumed, rightly or wrongly, that they were not Catholic.
Though some lament these days that the Camino is becoming more of a backpacker's event than a pilgrimage many people commence such pilgrimages to give themselves time to reflect on their lives. A Frenchman with whom I have kept in touch since my first long walk in 2011– The Via Francigena, from Canterbury Cathedral to St Peter's Basilica – did the Camino even though he claims not to believe in God and is The Grand Master of his local masonic Lodge. His reason: 'I had something to work out.' Another not very religious friend whom I met also on my first long walk did the Camino for similar reasons. On my first Camino I met a forty five year old English woman who had just retired from the RAF as a Squadron leader and had been the field manager of the Red Arrows, the RAF aerobatics team. Though I think she had a fairly fundamentalist approach to religion she was doing the Camino to have time to reflect on what she would do now that she had retired. A deeply spiritual Croatian doctor told me on my first Camino three years ago that he and his family were doing the Camino to thank Jesus for all the blessings in his life.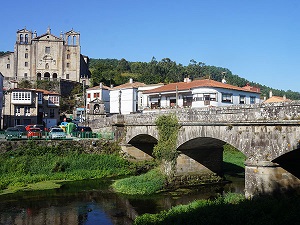 Was there some unconscious motivation or silent whispering of the Spirit of God that was luring me into the wilderness where it could speak to my heart?[1] I must admit God didn't block my way with thorns[2] only confronted me with huge hills that did resist but could be overcome with demanding and challenging effort. Perhaps there comes a time when the Spirit is poured into our hearts.[3] Like Chaucer's Pilgrims,
'Then longen folk to go on pilgrimages
(And palmers (pilgrims) for to seeke strange strandes)
And distant hallows hid in sundry landes.[4] '
I deliberately choose to walk on my own and catch up with people only after the day's walk. In the quiet on the track, words of one of our elder statesmen, Bill Cunningham, kept coming back to me. (Bill, you may not remember them, but they made a big lasting impression on me.) Bill spoke them to a group at Kensington where I was doing some facilitation for a pre chapter group many years ago. He said, 'In the past we thought humiliations would teach us our nothingness. We know now that's not true. God will teach us our nothingness. I was fortunate to have as my novice master, the gentle Pat McGuane, otherwise known as 'Brick' because of his insistence on The Rule. He said to me, 'Oh, that way there, Brother, I don't believe in public humiliations. God will give you enough without me doing so.'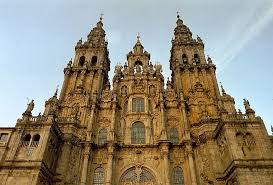 Perhaps being shown my nothingness was part of the spiritual dynamic of my pilgrimages. As I'd walk along, saying a prayer or two, the thought came to me that if God was listening to my prayers, then God was listening to the prayers of all these multitudes as well. God was paying riveting attention to all these other people too. Such a thought morphed into the realization that God was gazing lovingly on the thousands and thousands of others I'd see and meet and pass by in England, Ireland, Portugal and Spain, in the lounge in Singapore and elsewhere. As I flew over Asia and saw the lights that lit up millions of people below me I was in awe of the millions living there. Who am I amongst all of these?
Such a thought certainly put me in my place, but rather than crushing my spirit the corollary of such thoughts then rose up out of my heart. Who is this God? I can't say I was overwhelmed by the awesomeness of God; but gently and quietly my spirit was graced by a richer sense of God's infinity. I guess it is a quiet awe. From all time God has attended lovingly to the billions who have travelled this earth. My Scholastic Philosophy enriched this understanding. By God's action every single atom of every single star, among the billions that exist in the trillions of galaxies in our universe, is sustained in existence by the love of God. The infinity of God is an infinity of love, a love, as Dante tells us in the last lines of his Divine Comedy, 'that moves the sun and the other stars.'[5]
Such, I think, was the fruit of pilgrimage.
[1] Hosea 2:16
[2] Hosea 2:6
[3] Romans 5:5
[4] Chaucer Prologue ll 12-14 Spelling adapted slightly)
[5] Paradiso XXXIII: 145