Current News
Details

Published: Saturday, 15 December 2018 08:30
MSC MISSION OFFICE PROJECTS
Yesterday we acknowledged Adrian Meaney MSC at 85. Here we have some reminders of his work and that of the MSC Mission Offce.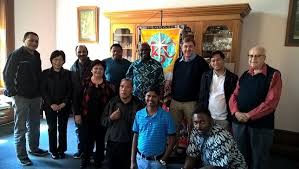 TZANEEN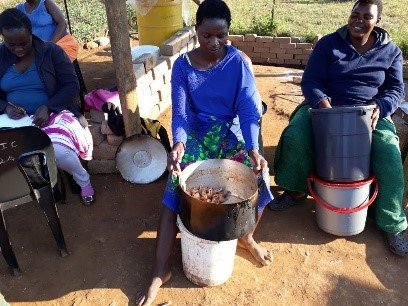 Fr Benoit Gueye msc from Thohoyandou Parish Diocese of Tzaneen recently writes to us. "Dear Fr Adrian. I am sending you a few photos of the Disadvantaged Youth Project to support the educational camp for 200 children in our Drop-in Centres for Orphans and Vulnerable Children at Nweli and Matsika. With the generosity of the MSC Mission Office and its benefactors, the two local women with the help of 7 volunteers are able continue to provide care for the OVC in the area. The care they provide includes food parcels, clothing and after school programs.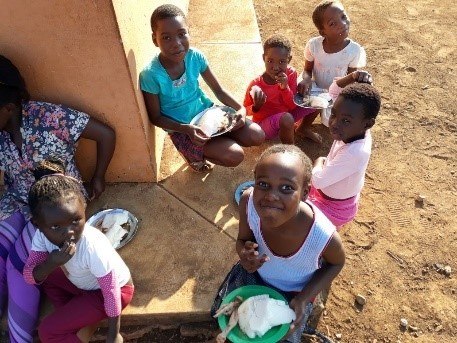 We are also able to conduct a workshop in order to equip the caregivers, facilitators and supervisors with basic skills and knowledge on the child protection policy, to improve their capacity and service to these children. Please accept and convey our sincere gratitude for the generosity of your benefactors. God bless you." – Fr Benoit Gueye msc
FIJI
"Dear Fr Adrian Meaney. On behalf of the communities of St Michael from Our Lady of Assumption Parish Lomary and St Agnes in the village of Sigasiganilaca in the Settlement of Navaivai, we would like to take this opportunity to thank the MSC Mission Office Australia and its generous benefactors for your great support and help in providing us with 1x10,200l and 1x5,300l water tanks. The water tanks have been tremendous blessing for us especially at this time of the year. The communities here now have constant and reliable supply of clean water all year round. We ask the Lord to continue to bless you and all benefactors." - Elenoa Nayacalevu (a member of Lomary Community)
PNG
Papua New Guinea - Sr Geraldine Arua from OLSH Convent Veifa'a wrote to us recently, "On behalf of the people of Aipeana Village and the local Elementary school children, I would like to convey our sincere gratitude for the help and support of the MSC Mission Office Australia. As soon as the fund arrived, we purchased the first five water tanks and other necessary materials. The progress of the project was slow because of the frequent rainfall and heavy flood but the community who contributed labour persevered.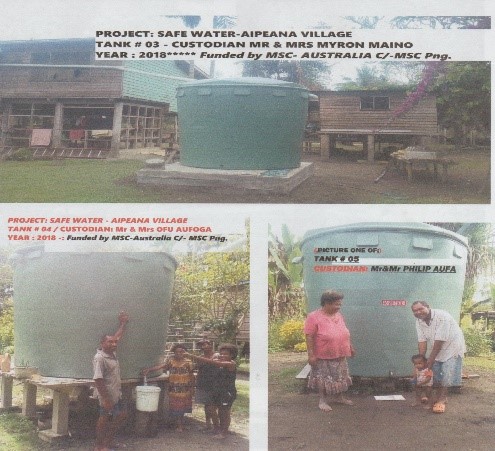 Further good news and outcomes of this project was that with the funds left over we were able to purchase another five water tanks (Our original request was 10 water tanks). With these extra water tanks, more than 100 people from five communities are now able to access safe clean water for their basic daily needs. We cannot thank you and your benefactors enough for your generosity. Please be assured that you are in our daily prayers."
INDIA
"Dear Fr Adrian, I am pleased to inform you that the Clean Water Project for the community of Shettihalli Village is now complete. 150 families in this village are so grateful for the help and support from the MSC Mission Office Australia for the precious gift of clean water. So, on behalf of the villagers here, our heartfelt thanks to you and your most generous donors." Fr Irudayaraj msc.