Current News
Details

Published: Monday, 10 December 2018 23:31
BOOK LAUNCH, NOEL MANSFIELD, FROM DAWN TO DUSK
Friday November 30 at Findon
Dawn to Dusk - Towards a Spirituality of Ageing, Published by Coventry Press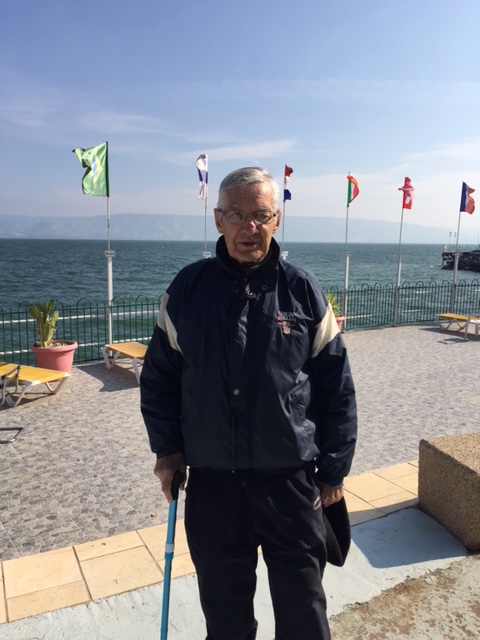 Noel and memories of the Sea of Galilee (not Henley Beach)
What happens at a book launch besides people gathering, having a look at the book - and some supper at the end? Firstly, there is the launch speech, in this case from John Wallace. Secondly, there is the author's response, here Noel.

John: Good evening, I'm John Wallace and it is my privilege to welcome you here tonight to launch Fr Noel Mansfield's new book, From Dawn to Dusk. Noel has authored a number of books and with this one he reflects on his own experience of ageing and how the ageing process has affected and shaped the development of his spirituality as a priest and Missionary of the Sacred Heart.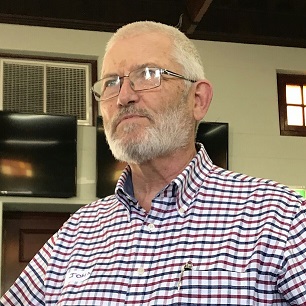 Once he commenced the journey reflecting on his own experience of the process of ageing, he needed to also look at what others had said and written about growing old. As Noel took that back to his own life journey, he was able to reflect on childhood experiences, memories of parents and family, life in formation and health issues that were significant in the process of growing up spiritually.

As I was reading, I was reminded of a friend of mine named Jim. About 20 years ago, Jim was visiting a client of his in Singapore who was in his late 60s. One evening, Jim was taken to a businessman's club for dinner. When they went into the club, Jim's client said 'what do you notice?' As a 40 year old, Jim didn't notice anything at first until his client said, 'to be a member here you must have white or silver hair as in Asian culture this denotes wisdom and it a rare privilege for you to be here.' My point is that in reflecting on ageing, Noel has shown his wisdom and understanding which then allows us to be open to learning about and starting to get some understanding of ageing.

The influence of Pope Francis is central to the development of Noel's insights into the spirituality of ageing, noting the Pope's various addresses to older people, reflecting on the deep and essential contribution of older people especially in today's 'throw away' society. Francis comments: 'Christian spirituality has been taken a bit by surprise, and it involves sketching out a spirituality of older persons'.

Fr Noel encourages us to rethink our attitudes to prayer, liturgy, relationships and community, including Church. As I read the book, I was drawn to the chapter entitled Letting Go. That chapter title suggested to me that I should be living in the moment rather than dwelling on the past. When I read the actual chapter it was that and more.

This book is a timely reminder that growing old is part of our life journey.
Fr Noel is a story teller. So I will hand over to him – not to read a section of his book - but rather to tell some of his stories.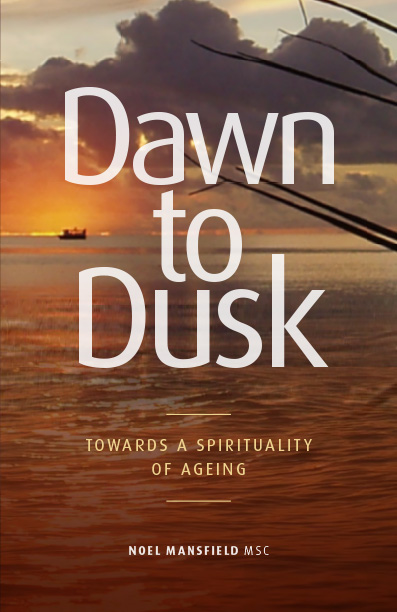 Noel: Thank you for those words, John.
I am particularly grateful to Pope Francis for his wisdom in speaking about the elderly. The words that come to me especially when I reflect on the occasion are what he had to say in the Philippines. The people did not call him Pope Francis but Lolo Kiki Francis – Grandpa Francis.
On many occasions he has spoken about the elderly and I particularly remember his remark: I am praying for a Church that challenges the culture of disposal with the overflowing joy of a new embrace between young and old people.
Let me just tell a couple of the significant stories that are in the book.
A striking thing about Papua New Guinea is that the elderly are respected for their wisdom. The following story brings this out very well. Let me tell on story from this part of my life.
A man came from the government to tell the people what was going to be done for them in their village and their district. There were about thirty people at the meeting.
One of the gathering sat aside from the main group. His name was Billy. He sat in the corner and just listened to what the government official had to say. Billy was dressed very simply in a laplap – a garment that was around his waist. He was an old and wizened man. His hair was grey and his face was deeply lined. These lines told the story of his life and the many years of his experience. But there seemed to be nothing more than that. His only movement was his chewing of betel nut. It appeared that his presence was insignificant. But that was not the reality.
After a long harangue by the government official, there were questions asked by the group. But Billy remained sitting in the corner. He did not say anything. He did not contribute to the conversation with even a single word.
Finally, when the government official was preparing to wind up the meeting, he turned to Billy and put a simple question to him: Billy, do you agree with all that has been said?
He still said nothing. After a short pause, he nodded his head in approval. The government official could now wind up the meeting. If Billy had not accepted the findings of the meeting, the official would have to accept that the meeting did not approve what was suggested.
Billy's simple nod of his head was his stamp of approval. The community rested its future in his experience and wisdom.
From the United States I heard this story. To understand this story we need to notice that she is speaking to a football team graduation. Hence most of her audience would have been at least sixty or more years younger than her.
A woman, at the age of 87, was completing her Bachelor's degree at the local University. She was asked to speak at the dinner when presentations to the football team were being made. She came up with a number of prompt cards in her hand. As she stepped onto the podium before she began her speech she dropped the cards. They were scattered all around the place. Rather than bending down and trying to pick up all the cards she stood there and remarked: I gave up beer for Lent and the whisky is killing me.
Then she went on: I will never get all these cards together so let me just tell you what I know. We do not stop playing because we get old. We grow old because we stop playing. There is a huge difference between growing older and growing up. If you are 19 years old and don't do one productive thing for a year, you will turn 20 at the end of the year. If I am 87 years old and stay in bed for a whole year, I will turn 88 at the end of the year.
Anybody can grow older; but it doesn't take any talent or ability. The idea is to grow up by always finding the opportunity to change.
Thank you all for attending tonight. I hope you enjoy reading the book.
Let me leave it there and hand the meeting back to John.
John facilitated interaction and reflection on ageing with those present and we then enjoyed some light refreshments to finish the evening. One of those who attended said that she had already read the book once and was starting to read it again.