Current News
Details

Published: Tuesday, 04 December 2018 22:24
BRIAN GALLAGHER MSC, NEW BOOK, COMMUNAL WISDOM
Coventry Press announce Communal Wisdom, a revised and enlarged version of Brian's previous book. It draws on the material from his recent doctoral thesis on discernment.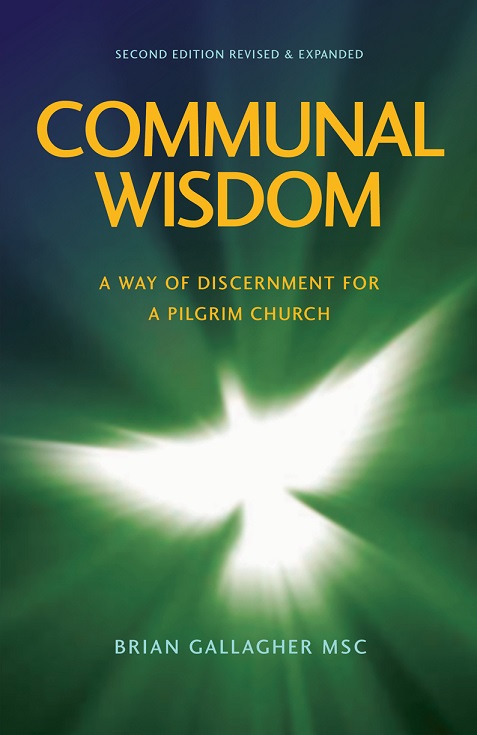 COMMUNAL WISDOM
A Way of Discernment for A Pilgrim Church
Brian Gallagher MSC
Communal Wisdom invites and promotes a Spirit-led Church and builds on the author's conviction that the Spirit of God is ever-present and all-pervading. God's Spirit dwells in all people and all creation – and in the communion of all people and all creation. (Romans 5:5) Many of the movements in our times stem from this truth: the movement towards justice and peace for oppressed peoples, the feminist movement seeking full equality of women and men, and the ecological movement calling for a renewed relationship with the earth.

Discernment is the process of listening to this Spirit of God, noticing in one's inner experience the signs of the Spirit's invitation and the signs of the work of any spirits not-of-God, luring us away from God. Traditionally, the term discernment means to separate or sift these signs.

Communal Wisdom treats discernment on an individual level, listening to the signs of the spirits in human experience, and then applies this to the parallel work of the spirits in community. The wisdom of a group is not only in the shared contribution of all members but in the group as a whole listening to movements of the spirits in themselves and amongst themselves. The author builds on long experience in group facilitation, offering concise explanations of the ways of God's Spirit and spirits not-of-God in group experience and a step-by-step process for group decision making.

Theologian Denis Edwards' Foreword notes that Pope Francis is calling for a more synodal church. This involves participation at all levels of the church, including parish groups, diocesan synods and plenary councils. In these situations, community discernment, communal wisdom, has a fundamental role to play. And Peter Bentley of WellSpring Centre in Melbourne notes that the volume 'is packed with practical insights into discernment processes that promote a contemplative and spiritual approach to decision making within communal contexts'.

ISBN 9780648360148
Publication Date 29 November 2018
Pages 64
RRP $18.95