Current News
Details

Published: Monday, 03 December 2018 00:18
A PERSPECTIVE ON WHAT IT IS LIKE TO PREACH: KRISH JON MATHAVAN MSC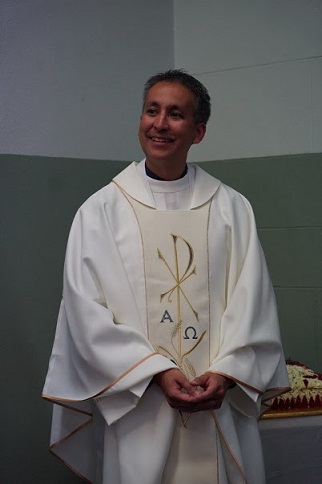 COMPANIONS IN PROCLAIMING: OUR EXPERIENCE OF BREAKING OPEN THE WORD OCTOBER 22 – 25 2018
This was the title of the meeting that the clergy of Adelaide had last month.
The first cab off the rank was Krish. He was the first of nine speakers who presented their personal journeys over three days. All of them were enlightening and quite different in approach.
Now Krish has agreed that he would like to share this with the Province. I am sure that you will find it well worth reading.
The program was well thought out by the organizers. The mornings were spent in hearing what various priests or deacons had to say. The afternoon was given over to Lectio Divina. Each group was around six to seven members. That gave us all a chance to deepen our reflections on what had been spoken publicly. From Noel Mansfield MSC
My Personal Experience of Preaching
All of us are experienced preachers. We are steeped in the Word of God and we seek to share this encounter with those to whom we are privileged to preach. Tuesday offers us a chance to listen to the personal stories of some who have been transformed by the Word that they encounter and preach. What do I like about preaching? What are its challenges? What touches me most? How have I been transformed / changed through preaching?
As you heard last night, I am on the verge of celebrating my first year of priesthood so compared to most if not all of you, I would not have had many years of preaching under my belt. While I had opportunities to publicly reflect on the Word of God during my religious and seminary formation, it was only as a deacon last year in a parish I got into a groove and rhythm with regards to reading, reflecting and preaching the Word of God. What do I like about preaching? I like the process: which is to read the scripture, meditate, reflect and synthesise the various strands of thought together. I like it because it grounds me, or rather when I do that, I allow the word of God to be grounded in me. That simply means that process helps me to understand and apply the Word of God in my life. I like it is a homily not a lecture, and we can incorporate what's happening and relevant in our world, as well as our personal experiences.
I like it when the scripture text engages with the world – my story as well as the culture in which we preach, because the evangelists did that with their text and we got the four gospels. I like that I can share faith, nurture hope and inspire love through my preaching, or at least that is what I hope to achieve. I am conscious I preach good news so however bad things are in my life or in the church or in the world, I trust God's action always brings us toward faith, hope and love. Hence, I know it is such a privilege to preach at mass, whether in a parish or school or nursing home. Where else can we get a captive audience to listen to us ramble on, and perhaps even to cling on to the little wisdom we might have, or to be encouraged through finding resonance with what we say? That same audience could also be turned off by what we say too and how we say it of course, but in general I do like the privilege offered by the many opportunities of preaching to me as one who is ordained.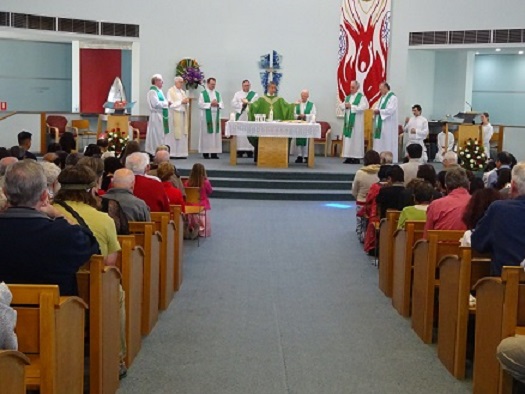 At the same time, it is easily the most challenging thing to prepare for and do every weekend. I've got a captive audience, but they can range in age from little toddlers to the elderly and I am supposed to speak to all of them? I have regular parishioners sitting with those who just happen to walk in because it's Christmas or Easter or first communions, and I have to prepare a take-home message for all of them? What does that ideal homily look like, I have often wondered? The young demands multimedia engagement and the old demands something short and sweet. Am I supposed to please them all? Sometimes my own insecurities come to the surface. Will my homily be good enough this weekend? Was I too naggy? Was I too difficult to understand? Did I rattle it off too fast like an express train? That was one of my first criticisms when I first started at the parish: I spoke too fast. I was nervous and wanted to get the homily over with, and it has taken me a while to be relaxed and take my time when I preach.
I also remember the time after typing out my first homily, I practised reading it out loud and found myself tripping all over the words. It read like a good scripture exegesis, but it was not a good speech to deliver or engage with. Perhaps it's because of the many years of study both in theology and science that my preferred mode of writing is more academic and I have to challenge myself to simplify and be more practical in my approach. I find it challenging too to preach to the younger people from junior to high school, because of trying to understand and engage their world with the gospel. I have tried going free-style (that is without script) and ask questions, which the younger kids gladly answer, and I just hope I can somehow weave and lead that back to the message I have in mind for them.
It was scary when I first started but I knew this way was more engaging for the young kids and it is getting better with practice. As for the older kids, I find a personal sharing helps to break the ice and gets them to tune in, but it can be daunting when most of them don't even respond in the mass. So I do find many challenges in preaching but it does keep me trying.
What touches me most about preaching? When the Word of God has truly found a home in me and I am moved, inspired, challenged. Often when I am in that space and give a homily, I know I speak from the heart. It doesn't happen all the time, depending on the text and my own state of mind, but I found that to be true for a couple of funeral masses I have done when I knew the person well and shared my memory of him/her and related it back to the Word of God. I am touched when the family tells me afterwards how those words gave them comfort. What a privilege to be preaching hope and comfort in a time of despair and suffering!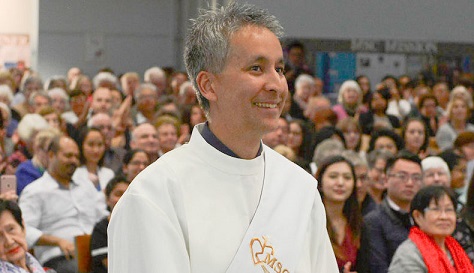 Sometimes I am touched and transformed by where I am on my own journey, knowing it is God's grace that brought me to this point, especially now when I reflect on my first year of priesthood and all the learning that has come my way. I think this is more evident with an example. The gospel two Sundays ago really moved me. It was on the man who asked Jesus "teacher what must I do to inherit eternal life?" and ends with Jesus asking him to sell everything he owned and follow him, which made the man go away sad. This gospel made me take stock of my journey and vocation. While it spoke of detachment from riches and the single-mindedness needed to follow Jesus, it also reminded me that it's not about what I must do, because that will not get me far like the man. It's what I can allow God to do in me, and that is what vocation and mission is. It's all God's work when I consider the religious vows I take of poverty, celibacy and obedience, because I couldn't do all that 'detaching' by myself, if I did not "fall in love in a quite absolute and final way that decides everything" (using Pedro Arrupe's words). This was possible for the man too because Jesus looked steadily at him and loved him, but he was possibly too caught up in his "what must I do" to receive and respond to that love.
Preaching, or rather its preparation helps me to get into the text, perhaps choose a character that speaks to me, and I often find that can be moving and challenging and invites me to go deeper. Through this gospel I am reminded not to take my vocation for granted or see it as an achievement that I had toiled hard for, but as an ongoing relationship that needs working and nurturing. And when I share my story, especially this moment of enlightenment in my preaching, I get to take ownership of my journey and I find myself affirmed in my vocation. This whole dynamic would not have happened without engaging the gospel to preach it in the first place. As such preaching is transforming, and the more I give myself the opportunity to enter the text and engage my world and the world around me, the more God's grace can work in and through me. Perhaps then the challenges I mentioned earlier will not look so daunting, and I can speak and engage from the heart, which is really on hindsight what I do best as a preacher.
Krish Jon Mathavan msc