Current News
Details

Published: Wednesday, 21 November 2018 22:27
KENJI KONDA NOW IN THE NOVITIATE, HIS STORY
After spending 2018 in the MSC community at Blackburn, Victoria, he was persuaded to tell his story for the Parish Magazine, The Apostle, of St Thomas Parish. With thanks to St Thomas' for allowing us to reprint.
We have inserted some photos through this rather longer than usual posting with photos from Blackburn and more recent photos of Kenji beginning his novitiate year at Douglas Park.
Having joined us in late February, Kenji Konda is the newest member of our student community at Cuskelly House. He is a first of many for the MSCs: he is older (just turned 46), is a real-life 'father' (has a son in 2nd year of Uni), born in Japan and raised in Australia. A sign of the times, perhaps…. or God's grace, as he would like to think! Currently a pre-novice under the auspices of Fr. Chris Murphy, he is scheduled to enter the novitiate at Douglas Park in early November. Today he shares with us his vocational journey into the MSCs: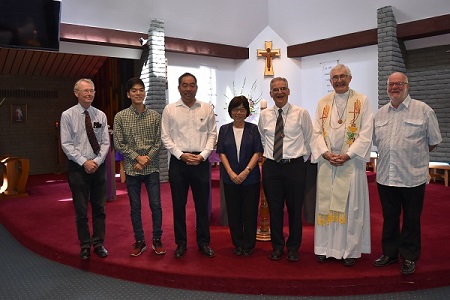 Exitus et Reditus
The majority of Catholics in my age group, and similarly across most generations, have spent some period of our life away from the Church. Sacraments aside, this may happen intermittently or often for extended periods of time, with some choosing not to return to the fold at all. The reality is that there are more who fit this category than there are in the pews – we all know of multiple people, especially those nearest and dear. For statistical purposes we are all thrown into one big basket and given the title 'lapsed', forming the largest group of affiliates in the Australian Catholic Church. Yes, I was a lapsed Catholic, so I am ordinary in every sense of the word. The uniqueness of my story is in the nature of my displacement, the age at which I arrive at this decision, and how closely this movement away from God is intertwined with the path to a religious life; the narrative that is my on-going redemptive journey.
Exitus
The story begins one Sunday morning after Mass. I approach my father and boldly declare that I no longer want to go to Church. My reasoning: I find the ritual boring, unable to understand what it's all about. To my mother's utter dismay, he grants my 'release' (as I perceived it then), making it clear that what is most important is for me to find God on my own terms. I remember being so proud of myself, as if I had check-mated a chess grandmaster. I was eleven or twelve at the time.
Fast-forward to 2004. My father is diagnosed with cancer. He is offered treatment but refuses. It is his right, we are told. He is given six months to live. I remember driving back from the clinic with my parents sitting quietly in the backseat, feeling numb, overwhelmed and confused at the same time.
"Unless a grain of wheat falls into the earth and dies, it remains just a single grain; but if it dies, it bears much fruit" John 12: 24
I cannot help but ask the question: why would a man in his early sixties with four sons refuse treatment? His response shocked me, and still remains deeply embedded in my psyche: "because if I do not die, my boys will never grow up". How is it possible to understand such conviction without understanding the scriptures – the life and mission of Jesus? Not until much later would I come to appreciate his courage, the depth of his faith, and love for his children…
… the Lord was not in the wind; … the Lord was not in the earthquake; … the Lord was not in the fire; and after the fire a sound of sheer silence 1 Kings 19: 11-12
That very evening, I vividly recall running to the beach, tears rolling down my eyes. It was the place Dad used to take us the most, it was his favourite place. I threw sand and insults at God demanding my father be cured. Too young, too important to our lives; and what about mum? Take me, I shouted. But there was no reply. Just the sound of the waves crashing onto the sand. A full moon, and the air was still. It was beautiful. Silence. Anger slowly turned to sadness. I was overcome with grief. So, I wept and wept until there were no more tears. Alone, or so I thought.
Accepting, or rather, respecting my father's decision was a turning point – it enabled our relationship to reach heights of intimacy that we had never experienced before. There was also a sense of urgency on his part... In the hospice much time was spent in discussion, about anything and everything. One day, I decided to take a chance and ask about God. He iterated a familiar line from decades past: "this is one thing I cannot help you with. You must find God on your own".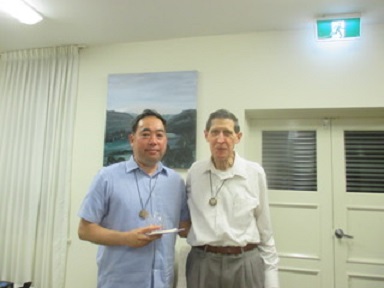 With Peter Harvey-Jackson MSC, Novice Director
"It is better to feel your wounds deeply than to understand them" Henri Nouwen
After the passing of my father I was not well for a long time and my mother recognised this. As much as I tried, it was impossible for me to conceal my emotions. I was wracked with guilt and, as is often the case, blamed myself for all that had happened. She understood my pain and like all mothers, wanted to help me. But what she suggested astounded me. It was nothing to do with grief counselling. She simply said: "why don't you go and ask Jesus for help". A suggestion considered unthinkable just a few months back suddenly seemed… reasonable? To me! The boy, at such a young age, telling his parents he no longer wanted to go to church because it was boring and made no sense. The one who hadn't been to Mass since… forever! I still remember that Saturday afternoon, going to the Vigil Mass. And for the first time in my life, entering the Church literally on my knees. It was a strange feeling but I listened, holding onto every word. It is interesting how much more a humbled heart hears... I had forgotten all of the responses, or when to stand and kneel, but the homily was profound. The priest assured us that God loves us all unconditionally, warts and all. It made no sense. A sinner, like me? I should be banished to hell. I did not receive communion. But the Mass gave me hope and I returned each week, listening with the ears of my heart. The Mass somehow helped me cope with the weight of my guilt and all that was happening in my life. I was beginning to slowly transform into a new person… my conversion was set in motion. Today, I still listen to this priest's homily as intently as I did all those years ago.
"… search and you will find, knock and the door will be opened to you" Luke 11: 9
My new-found desire to know more about this Jesus of Nazareth led me to Bible Study, beginning with the Gospel of Matthew, then John. The latter in particular had a profound impact, so much so that after reading the Last Supper narrative I made a solemn promise before the Lord to follow Him. I felt a genuine sense of recognising what He wanted from His disciples. More grace was to follow.
"At the centre-point of our being is a point of nothingness which is untouched by sin and illusion, a point of pure truth, a point of spark which belongs entirely to God" Thomas Merton
Providentially, an opportunity presented itself to attend a guided weekend-retreat with a friend at Douglas Park, the spiritual home of the MSCs (he is also studying to become a priest, in the Holy Land with the Franciscans). I still recall the mantra: "You in me, and I in you". After returning with much joy in my heart, I had the moment – a religious experience through contemplative prayer…
I found myself now totally comfortable with being led by the Spirit. The notion of 'servant' sat very well with me and I involved myself more than ever in church ministry. I am the happiest I have ever been – it is amazing what an intimate encounter with the Lord can do for you.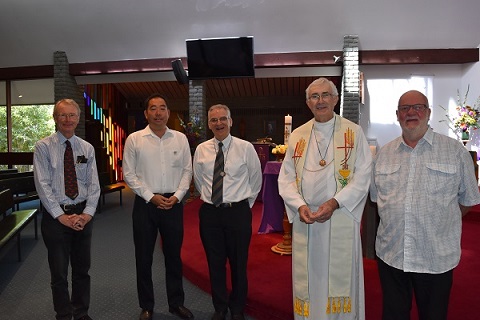 "You did not choose me but I chose you" John 15: 16
One day, during a meal in the presbytery, the PP suddenly says: "You would make a fantastic priest". Admittedly this excited me, arousing a deep desire that was unearthed initially during my Bible Study days then again at Douglas Park but was left firmly under lock and key for obvious reasons. I had been through a failed marriage, and I had a son. I was in my mid-thirties, involved in a business partnership. If you surveyed one hundred Catholics, 99.9% would most likely consider such an individual unsuitable for the priesthood. Here was the exception, the 0.1%, and a priest! He knew everything about me, yet still offered encouragement: "Pray about it. I think the Lord has His finger on you". To him it wasn't so much about my past but the present – the person he had worked with side by side in ministry - sitting in front of him, in the here and now. I was deeply touched, and excited at the same time. From this moment, my discipleship took on a whole new meaning and purpose.
In prayer, however, there was constant doubt. I would often ask the question: "Is this really what you want of me?". I begin discussing my intentions with church peers but more often than not, and for various reasons, the feedback is negative. Some dark times would follow – receding into my shell and avoiding contact with people, spiralling downwards, picking up bad habits and feeling like an outcast and misfit. I stop talking about my vocation publicly. I am usually quite confident but this was a different issue altogether. I discover very early that it is not easy to follow the Lord. I am extremely frustrated. Ryan (my son) was still in primary school so it remained a long-term goal. I needed to be patient; to pray more. But doubt always lingered... Is it really possible?
2011
Encouraged by the same priest, I begin theological studies online through the Broken Bay Institute, facilitated by the University of Newcastle. Due to work commitments I am only able to enrol on a part-time basis - one subject per semester. The study helps me stay focused - a source of purpose and renewed confidence, kindling the fire in my heart. I begin exploring new ministries, widening my web of experience in preparation. By now I had been invited onto multiple parish councils and committees. I suddenly find myself extremely busy, but my outreach activities and study keep me grounded - the source of my joy and inspiration.
2013
Pope Benedict announces his resignation on the 11th of February – the first to do so in six hundred years - officially abdicating on the 28th of the same month. A progressive reformer is appointed Bishop of Rome on the 13th of March. There is genuine excitement in the air, especially for those like me, hoping for renewal and a more relaxed interpretation of doctrine pertaining to family and annulments. Those I encounter and work with in ministry are beginning to suspect my intentions. It was so encouraging to see support for my vocation slowly building - so affirming. What is an aspirant or a priest, if he is not endorsed by his own people?
2016
By this time, I had completed my transition and was fully immersed in Church life and ministry; spending most of my days at the MSC Mission Office, completing my theology degree by night and application for entry submitted to the Director of Vocations. Ryan (my son) was in the process of completing year 12 and was now of legal age. In April, Pope Francis had finally published his long-awaited apostolic exhortation Amoris Laetitia, localising the authority and contextualising the doctrine governing the annulment process. Providence... The priest advising me on Canon law suggests that now is the time to submit my application.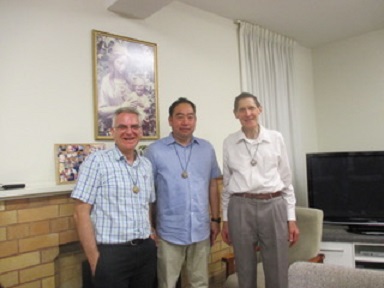 2018
Saturday 3rd of March, the day of the official ceremony for acceptance into the pre-novitiate program at Cuskelly House, in the parish of St. Thomas the Apostle, Blackburn. Is this really happening? My mother and son are both with me for this special occasion. I look around the church - the Rego family are setting up the music, and Helen, Marie and Trish are busy preparing refreshments. I feel overwhelmed, and truly blessed….
This is my story so far… a most unlikely journey. I was once lost but now I am found. My daily prayer life is filled with gratitude and appreciation to so many; from my family to all the "Good People of God" I have encountered along the way, including our most recent Popes for being a part of my redemptive journey. In particular I am grateful to the MSCs – for always believing in me and for being a part of my family's faith journey for three generations and counting.
And to you, the Good People of St Thomas the Apostle, Blackburn: thank you for accepting me into your community and for being so generous in Spirit. You have now become a part of my life, whether you like it or not! I ask that you remember me in your prayers, as I do for you each and every day.
Blessings in abundance,
Kenji