Current News
Details

Published: Tuesday, 13 November 2018 22:37
A VISIT TO SOUTH AFRICA, MSC AND OLSH – PAUL CASHEN MSC
Paul Cashen writes from South Africa.
At present I am in SA on the invitation of the Australian OLSH and MSC to visit their mission to the Limpopo Province of South Africa.
I met up with most of the Irish, African and Australian MSC on the occasion of the memorial Mass for Fr Dick Broderick MSC who died a month ago in Pretoria. Dick would be known by many Australian MSC through his formation work for the Irish Province in Ireland and South Africa. The Mass took place in the parish church, Our Lady of Peace in Louis Trichardt where Dick began his missionary work, newly ordained and 24 years of age in 1959.
Fr Frank Gallagher - Regional Superior - reminded us of the commitment and dedication that Dick and the early missionaries brought to the people of this northern part of South Africa. The concelebrating priests were Bishop Emiratis Hugh Slattery, Andre Bohas, and MSC Africans who now are the missionaries in the Limpopo diocese, Jonas, Teddy, Benoit and Julius – photo below.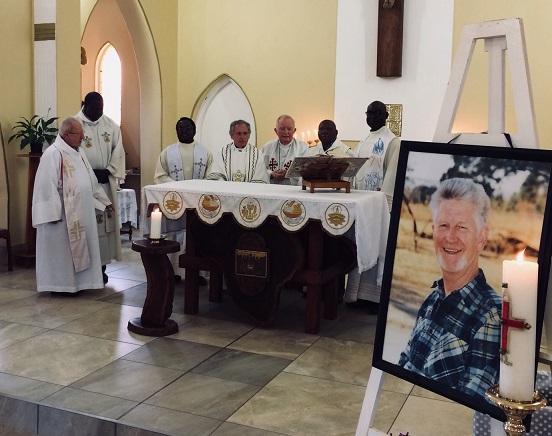 The OLSH and four other communities of nuns and the laity also gathered for the memorial Mass and the luncheon that followed. All remember with affection the efforts of Vince Carroll and his service to the diocese over many years.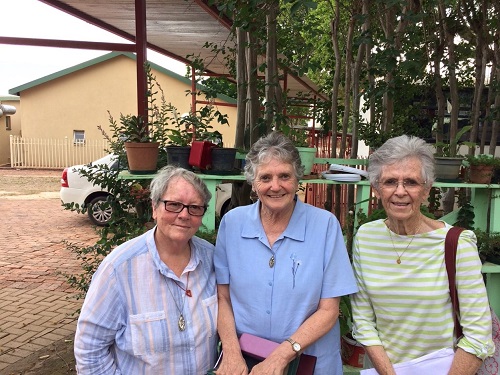 There are three Australian OLSH in the diocese of Limpopo, Sally Duigan, Chris Martin and Helen Armstrong, two from Indonesia and the Pacific, and three African sisters in formation. Their ministries range from teaching in schools, proving support for AIDS orphans in a hostel and community based home groups, supplying food and essential goods to new families and the fast spreading villages, supervising the funding that comes from local and overseas benefactors, child care facilities in remote places... these are some of the activities I observed and visited. In the past there have been exchange teachers from the Australian Province assisting in South Africa at the high school of Dwars River.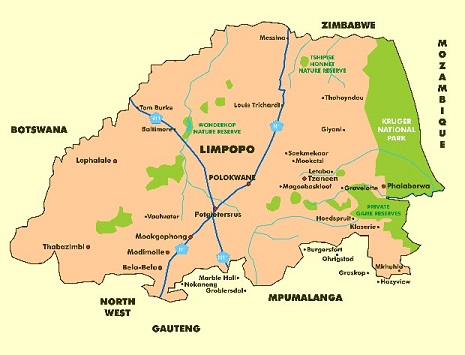 The remoteness initially meant that this part of the country was and still is poor. The vast majority are Africans, many from across the borders from the north and east looking for a better life.
The area covered from Musina in the north, close to Zimbabwe border, down to Tzaneen (240kms) and its sprawling villages, which now embraces 400,000 people in 2018. The Limpopo Province is close to 6 million and Catholics over all are 2%. The MSC and OLSH have been in South Africa from mid 1900's and in Limpopo after the war in 1946. The Irish MSC now are few in number and their older men are moving to Pretoria as age and infirmity approach. There is hope with the five seminarians and the commitment of African MSC to the Limpopo region.
It has been an interesting three weeks visiting our OLSH sisters and MSC brothers, I thank them for their hospitality and for their patience with all my questions and presumptions that visitors bring.
14/11/2018