Current News
Details

Published: Thursday, 01 November 2018 22:38
A FIRST FRIDAY STORY - A LIFETIME'S COMMITMENT TO THE HEART AND TO MISSION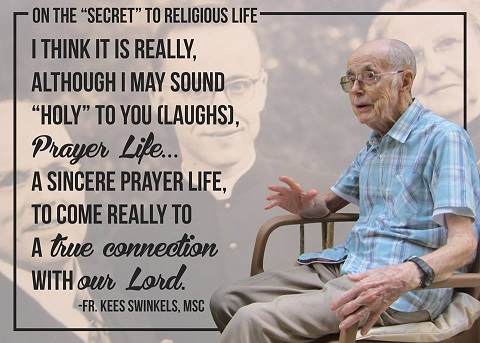 "I do not regret my decision"

-Fr. Kees Swinkels, MSC
Dean of MSC Philippine Province
An MSC for 70 years; a priest for 65 years
The conversation that follows will share some glimpses of the life and mission of a man who continuously aspires to be God's Heart on Earth.
__________________
Fr. Cornelius Swinkels, MSC or just "Fr. Kees" was born on March 29, 1928 in Vught, Netherlands. He professed as an MSC on September 21, 1948. He was ordained as priest on September 6, 1953. In 1955, he was sent to the Philippines.
When did you start the mission to the Philippines?
I arrived here on December 26, 1955 by a Cargo Ship. (Trivia: On Christmas Eve, the other passengers of the ship, although all were non-Catholics but one, requested him to celebrate the midnight Mass)
Was the Philippines your first choice for mission?
Well, it's among my 3 choices along with Brazil and Indonesia. Eventually, it was my superior who decided that I be sent to the Philippines when my batch mate decided to withdrew his intention for mission.
Where and what was your first mission assignment?
I was assigned as Assistant Parish Priest in the Parish of San Jose, Nueva Ecija (Now the St. Joseph Cathedral). I was there for four years and in 1959 I was assigned as Parish Priest in Lupao. But that one was cut short.
Why?
I was there for only four months. My superiors wanted to build a seminary for MSC in Luzon which was later built as the Sacred Heart Seminary in Angeles, Pampanga (now the Chevalier School). So when we had our dinner at the Spick and Span restaurant in Angeles, I excused myself and went to the toilet; little did I know that they were already deciding among themselves. So I entered the toilet as the Parish Priest of Lupao and came out as the Rector of the Sacred Heart Seminary.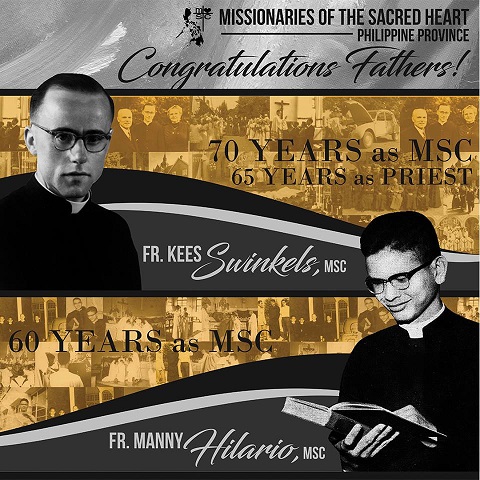 You have been in the Philippines for more than 60 years.
Oh, yes…
So that's more than half of your life!
more than half…yes.
And all these years as a missionary here, what pastoral attitudes do you think have been helpful for you to be effective in your mission?
Deep question, actually…For me, the attitude of patience (you see, I'm from another country)…not because of the people…maybe my own…I had to be patience with myself…and that I should be more understanding…and later on I learned that very well. And showing interest also on the people's stories.
Father, do you have a secret in your living out the religious life all these years?
I think it is really, although I may sound "holy" to you (laughs), prayer life—a sincere prayer life—to come really to a true connection with our Lord. Well, there are many times that one does not have even any feeling for praying. And do not think that I pray the whole day, every day! We try but usually not successful… sometimes successful. But prayer is our relationship with our Lord.
Now that you're spending more time at the Chevalier Home after your "active" ministry, how do you see yourself as still, in a way, "active"?
In many cases, we are called even in old age by what our Lord is telling us…like simple things to be done here in the house…like we are more into taking care of the house…or even in preparing for some celebrations that were held here.
In your many years as MSC religious do you have some words to those of us who are still young in religious life?
Ah, definitely I have some words! Try to find happiness in your life because happiness will be of great help…even at times that it seems that the Lord has left you, that happens, and in spite of all the disillusions that you have to undergo, the crises that you have to go through, that you still remain what you should be. I am saying that to you but I am not doing it myself very often! (Laughs) And be open…spontaneous…not to hide things from one another. Otherwise you cannot grow. People can only grow if they really give themselves the way they are. This applies even to people who are outside formation.
In your more than sixty years as MSC, what could you consider to be God's greatest gift or grace for you?
Well, it is something I can answer indirectly. It is not something I feel always ha, but I am sure and am convinced of the love of God. As Pope Francis says, one has to begin with accepting that God loves you. Also, I feel at ease with practically all people and that's what others blame me sometimes for. But I see it more as a gift.
So, looking back at all the years as a religious and missionary, if you could describe in a nutshell your religious life, how would you describe it?
Oh, that I do not regret my decision.