Current News
Details

Published: Wednesday, 31 October 2018 06:29
THE MORAL OF THE STORY… 20 YEARS AT YTU, PHIILIP MALONE MSC
A while ago, there was a story about Philip Malone as the last MSC lecturer standing at the Yarra Theological Union. This is an interview for the YTU Newsletter.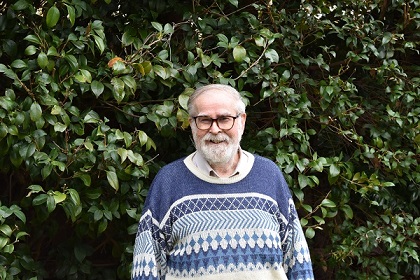 Philip Malone, how did 20 years at YTU come about?
As 1998 came to a close, so did St Paul's National Seminary in Sydney where I had worked for the previous 12 years. I recall meeting Tony Kelly at this time and he asked me 'what next?' I wasn't at all sure but offered the lighthearted response, 'to dig I am unable, to beg I am ashamed...' Tony said simply, in his Kellyesque way, 'think of Melbourne!' Well, it happened that David Willis was moving to PNG and as that left open a teaching role at YTU for one versed in Introduction to Moral Theology so the rest is, as they say ... 20 years later.
What have you been doing all this time?
Well, many things, of course, but YTU-wise, overseeing the return of MSC students to YTU in 2001 was a priority.
Teaching was a primary focus, naturally, and over the years I have been engaged in presenting units such as Introduction to Moral Theology,Morality In the Market Place, Social Teaching of the Church, Sacrament of Reconciliation, Introduction to Liturgy, Participating and Presiding in Community Celebration, and two of the GCTRE units (Making Our (Christian) Choices In Life and Jesus Christ, Mission, Church, Sacraments). This teaching has not been always single-handed; I have had the pleasure of co-teaching with Peter Price, Margaret Smith, Kathleen Williams, (Presiding unit), Margaret Jenkins (Church & Sacraments), Cormac Nagle (Major Issues In Moral Theology), and Margaret Smith (Introduction to Liturgy).
Nor has this teaching been solely YTU-bound but involved as well numerous trips to Mildura and Ballarat for GCTRE and REAP duties.
Over and above - well, integral with, teaching at YTU there is administrative involvement. For me, as with all of us, this entailed regular staff and faculty meetings, and faculty seminars both at YTU and MCD/University of Divinity. More formally, I have chaired Field D and participated as a member of the Academic Board (in the days it was so styled). Membership of various MCD committees and panels was a logical consequence of this. There has also been supervision of student research work, book reviewing, Ethics Committee involvement, a range of public lectures and seminars in Parishes and with various groups all over Melbourne ..., grist for the mill for all YTU staff, really. Well, a summer school with our MSC students in Vietnam last year (Moral Theology & Liturgy themes) was somewhat apart from the beaten track!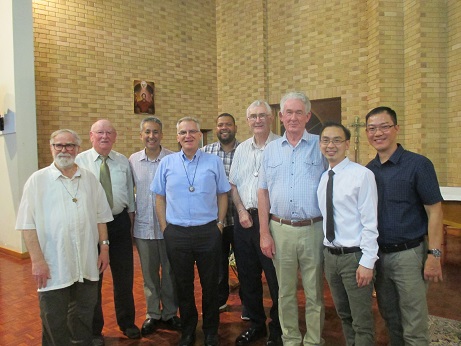 MSC support of YTU,
Maintaining one's professionalism and peer contact is also essential, of course, and over the years I have kept pace through membership of the Australian and New Zealand Moral Theology Association, The Australian Catholic Theological Association, the Australian College of Educators and the Association of Catholic Ethicists for a World Church and by participation in their conferences and activities.
The plus side to this is we have conferenced not only in Melbourne, Sydney and Perth, but I have travelled to Italy (Padua & Trento) and to India (Bangalore) for conferences - delivering papers in small group sessions at Trent and Bangalore. Participation in our YTU Renewing the Vision Liturgy Experience (2011) and CTC History and Culture Tours (2013 and 2017) which took us to Europe were both professionally and personally rewarding.
A major disappointment from this time - the doctoral thesis I have been unable to complete. Working with Arnie Hogan, an examination of the writings and significance of Bill Daniel SJ was under way. However, my visual impairment made the work problematic and ultimately not possible.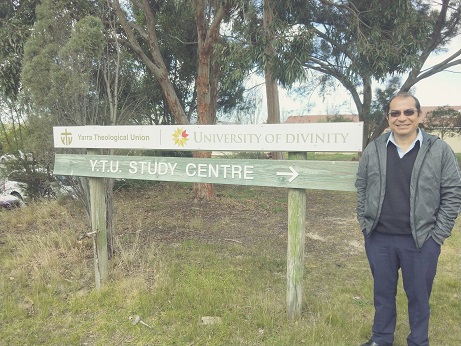 Superior General, Abzalon, visited recently
A different place but the same place
Over 20 years YTU has not so much changed but moved forward - personnel, curriculum, administration, accountability ... from MCD to University of Divinity, from Seminary focus to Institute of Adult Learning, with more emphasis on research and graduate studies than the BTh, the developing significance of the SRC, together with 'incorporation' of Heart of Life, engagement with overseas institutes, working with the Korean Community, development of the Language School..
Staff and students have worked together on vision and mission statements, policy directions and strategic plans.
And during this time I have had the good fortune to associate with people who are leaders and experts in their field, fine teachers and people, as colleagues and friends.
But over and above all, what I have witnessed, delighted in, and done my best to foster, is what makes and sustains YTU - the YTU spirit of welcome, of hospitality, of shared vision and ideals, its sense of mission, its view of Christian community, its love of learning...I could go on for another 20 years!!