Current News
Details

Published: Sunday, 28 October 2018 23:24
A FURTHER OLSH RANDWICK STORY, XIAO/SHAWN AND PETER HEARN MSC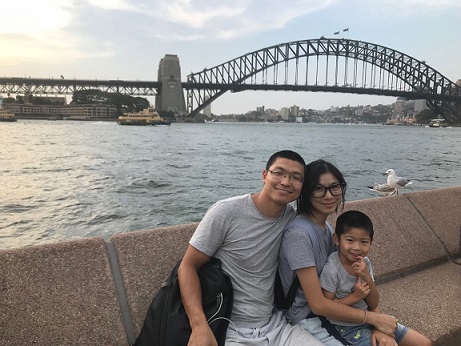 And on Day Three…

Three days after arriving in Australia in March 2017 Xiao Wang visited a Catholic Church for the first time.
Xiao (known now as Shawn) came to Australia to study and initially stayed with Janet, a member of our church choir. Three days after his arrival Janet took him to church where he met Fr Peter and was asked to operate the AV screen – he had never done it before! And so began his journey to becoming a Catholic and a member of the parish.
Shawn's was a traditional Chinese family of Mum (Ming Li), Dad (Tiancheng Wang) and big sister Xiaoxia. She was born in 1980 and Shawn in 1987 and in travelling to Australia he was the first of the family to travel beyond China.
After leaving high school in Xinjiang in 2005 Shawn completed a Bachelor of Petroleum Engineering at the China University of Petroleum in 2009. And for the next seven years he worked as an engineer on the oil fields in the Gurbantunggut Desert in North West China. Conditions were harsh with temperatures way below zero in winter.
In 2011 Shawn married Binggin Yi (Becky) the girl he had met in High School and their son Lele (meaning 'Happiness') was born in 2013. With Shawn working in the desert and home only at weekends Shawn and Becky yearned for a better life. They talked about wanting to be good parents and that might mean separating the family for some time so that Shawn might be better qualified even if that involved moving from China.
That came in 2017 when he had the opportunity to enrol in the Master of Petroleum Engineering course at the UNSW. Shawn recalls how nervous he felt on arriving in Australia especially as he was unable to bring their five year old son, Lele, with him.
'Culture shock' he calls it– a stranger in a strange country – was his first reaction but he was made welcome so readily. Conversations with Jane made him feel comfortable in his new surroundings and they began to talk more about music and religion, both topics a little strange to him.
Soon he was invited to the Holy Spirit Group. That became a special time for him as he became friendly with a range of different people. Their warmth and acceptance of him gave him a feeling of really being part of the Group and gradually he felt more and more drawn to the activities of OLSH.
Enter Sister Nancy the RICA coordinator! After talking with her, Shawn enrolled in the program to become a Catholic. Until then he had been an atheist and it was not easy to believe in God. He told Fr Peter about his confusion 'I felt so down and upset' was his reaction and was concerned that he was not well prepared in himself for baptism.
With Fr Peter's encouragement and that of Sr Nancy his doubts began to evaporate. Sr Nancy told him that the love of God would come from his heart but initially he felt he was searching more with his brain than his heart. 'Slowly' he says, 'I began to realise then that love, and the love of God is more a matter of the heart than the brain'. He compares it to the feeling of falling in love and a sense of real happiness.
And at the Easter ceremonies this year he was baptised taking the name of Joseph.
The journey in being a Catholic continues for Shawn. 'It may take several years for me to believe everything in the church but gradually' he says 'his brain can be as firm as his heart is in being Catholic',
Study and becoming really fluent in English is a priority. For the time being Lele is being minded by Shawn's parents. Becky is an Electrical Engineer but her emphasis too is on improving her English and is being helped by having lessons with a friendly parishioner, much the same as Shawn was helped by another parishioner when he first arrived.
Both now feel at ease in Sydney. They occasionally jog in Centennial Park and recently spent a weekend camping in Kangaroo Valley.
With thanks to Tony McNamara and editorial, Parish Newsletter, Randwick.