Current News
Details

Published: Thursday, 18 October 2018 23:24
THE HERITAGE OF JULES CHEVALIER, FAR AND WIDE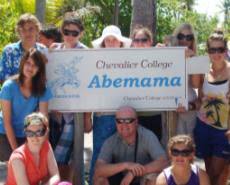 This weekend sees the anniversary of the death of Jules Chevalier. He was a man of vision, of the heart, a man of mission.
As tribute to this vision, here is a post from one of the many schools named after him, Chevalier College, Bowral. This is a speech given by Zoe Molino, Year 12, welcoming the new bishop of Wollongong this year, Brian Moscord. The Chevalier students make trips to the MSC communities in Kiribati, a different heritage from Jules Chevalier.
"the life changing opportunity of catholic education in the diocese of Wollongong"
Good morning Bishop Brian, Mr Peter Turner, principals, teachers and staff.
My name is Zoe Molino and I am currently in Year 12 at Chevalier College. I have had the privilege of receiving a catholic education my entire schooling life, from a little kindergarten student at Saint Thomas Aquinas to enduring the HSC at Chevalier. Chevalier recognises that developing every individual into the best person they can be is an important element of education, not just academically but also on a spiritual and emotional level. Having a Catholic education has opened my eyes to the broader world and allowed me to develop a more understanding and compassionate perspective towards world issues which I will carry through my entire life.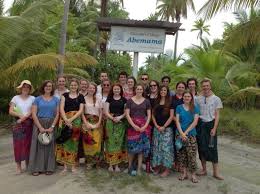 The 2015 group.
First and foremost, Chevalier has provided me with the life changing opportunity of traveling to our sister school in Kiribati. I visited the island of Abemama last September for three weeks and whilst over there met some of the most authentic and genuinely beautiful people you will ever see. They welcomed us into their humble lives whole heartedly, making each and everyone of us feel so loved. We participated in sporting carnivals, helped them with assignments and shared many laughs over my bad attempts at trying to learn their language. The powerful memories have transformed me as an individual and my outlook on life. I now have a greater appreciation for the life I have back here and also the importance of simply being yourself. The trip, although challenging, resulted in strong connections with people both over there and back home and I know I will cherish these forever. The simplicity of life and love of community was very much based on values embodied in Chevalier at home, reminding me that cultural barriers do not have the capability to divide us. I still keep in touch with a lot of the people in my class which, I believe, shows the impact those defining three weeks had on our lives. Without Chevalier and its Catholic education this opportunity would never have been possible and for that I am forever grateful.
At Chevalier, we are offered a broad range of courses along with co-curricular activities including sport, performing arts and agriculture. I have found that through participating in all aspects of college life, the greatest internal development is nurtured. As an independent Catholic school, Chevalier has provided me with the opportunity to represent my school playing sport every weekend with friends from all year groups. It has the power to unite peers, develop positive relationships outside of the classroom and promote teamwork, problem solving, health and self esteem.
All students participate in an annual retreat which truly unifies every year group. The retreats seek to provoke internal reflection and discovery of oneself in a safe environment. We are invited to open our hearts and encounter God and Jesus, however they may be present in each individuals life. You are challenged on both an emotional and spiritual level causing a reevaluation in your life. Every year there is a different theme, however it always comes back to our school ethos "To be on earth the heart of God" which stems from our founder, Jules Chevalier.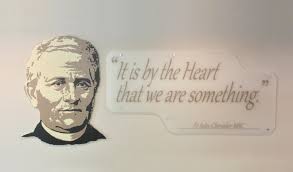 This mission statement defines the actions, behaviours and attitudes of Chevalier, encouraging respect, kindness and generosity. These simple concepts can be applied in many other aspects of life and influence the way in which we interact with our world.
Another defining characteristic of a Catholic education is the religious study which results in well- rounded students capable of seeing multiple perspectives. Studying religion in both primary and high school has created the foundations for a strong sense of justice and an appreciation for the many different faiths within our diocese. Religion has the capability to bring about both peace and conflict throughout our world and by being exposed to this diversity within the religion course, understanding, tolerance and acceptance can be found. This, I believe, is the way of the future.
Therefore, having a Catholic education has had an immensely positive impact on how I live my life. The opportunities it has yielded are transformative and the values that each experience has allowed me to understand are one's I will never forget. It provides strong role models, such as Jesus, who inspire lives filled with compassion, forgiveness and love. These simple values have the power to define how we perceive the world, and therefore how the world perceives us.
Thank you.