Current News
Details

Published: Friday, 12 October 2018 22:54
Bishop Charles Gauci ordained fifth Bishop of Darwin.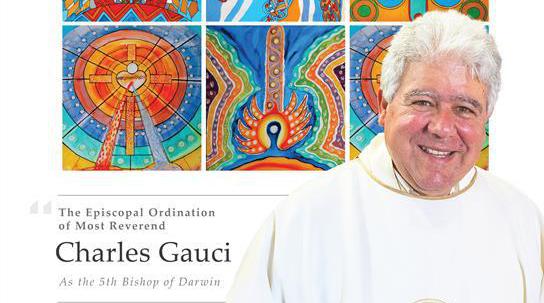 The MSC website congratulates Bishop Charles Gauci. The diocese of Darwin has been significant in MSC history.
With this weekend posting about the new Bishop and with good memories of Bishop Eugene Hurley, visitors may have time to look below the report and find information about the previous bishops of the diocese, of two in the 19th century never arrived in Darwin, of the three MSC bishops, F.X Gsell, John O'Lougnlin, Ted Collins. Athough seven bishops were named, only the last five had residence in Darwin - and so Bishop Gauci is described as the fifth bishop of Darwin.
In a ceremony rich with Catholic tradition and Aboriginal culture, the Diocese of Darwin on the night of September 26th welcomed Bishop Charles Gauci as its new shepherd.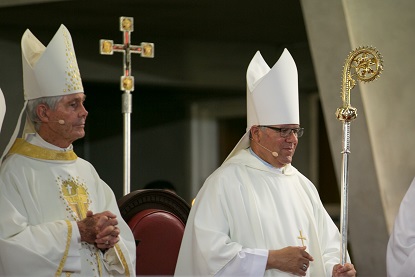 In June, Pope Francis announced that Fr Charles Gauci, then-administrator of St Francis Xavier Cathedral in Adelaide, would succeed Bishop Eugene Hurley, who had served in Darwin for the past 11 years.Pope Francis' ambassador to Australia, Archbishop Adolfo Tito Yllana, read the apostolic mandate from the Holy Father, announcing Bishop Gauci's appointment. Bishop Hurley served as principal consecrator at an overflowing St Mary's Star of the Sea Cathedral.
In his homily, Bishop Hurley welcomed Bishop Gauci to the Diocese, but also reminded him of the task that lies ahead. Bishop Hurley said trust between the people and the Church in Darwin has been built over more than a century.
"This is a sacred trust, well-earned, but it brings with it a grave responsibility to walk with the people as a good shepherd must," he said.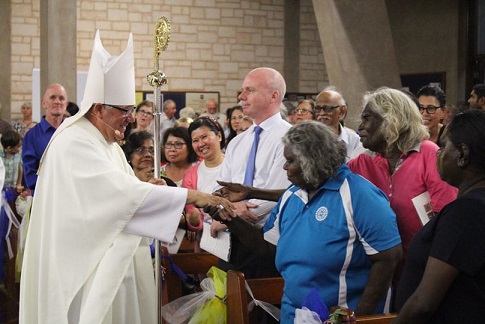 "Our diocesan family consists of people from almost every part of the world. Many of these people, dislocated from their own culture and homeland, look to the Church for comfort and reassurance. They will look to you as their bishop for understanding and support."
Bishop Hurley said that the special bond between the Catholic Church in the Northern Territory and Aboriginal and Torres Strait Islander peoples is a privilege, but there are also significant duties.
"The trust, reverence and love shown by our Aboriginal sisters and brothers over such a long time are sacred, and demand an equal commitment from the Church and from you as bishop," he told Bishop Gauci.
"You will need to listen carefully, observe closely and walk humbly with them as you assess the situation which confronts them.
"You will find that they need your support and your voice as they search for proper housing, dignified employment and an urgent review of the heartbreaking rate of incarceration of our Aboriginal sisters and brothers, particularly the young people."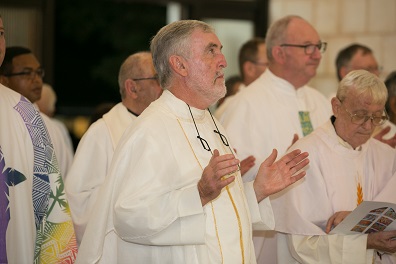 Earlier this week, speaking with ACBC MediaBlog, Bishop Gauci spoke of his commitment to responding to those challenges, among others.
"When I visited the Indigenous people a few days ago, it was an eye-opener for me – their hopefulness, their warmth and their need to be connected spiritually," he said.
"I think to myself, 'I need to learn from these people'. I'm sure the Indigenous people can teach us a lot."
Bishop Hurley said despite the geographical size of the Diocese of Darwin – more than three times the size of France – there remains a closeness.
"Even though the Diocese is vast, we have a strong and abiding sense that we are a diocesan family, united in faith and united in care and love of one another, however far apart we might be," he said.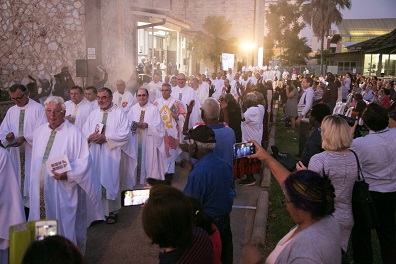 "This is an exciting and joyful time for all of us. Welcome to the diocese. Welcome among us as a bishop. Welcome among us as our bishop."
At the conclusion of his ordination Mass, Bishop Gauci declared: "I am now a Territorian – and very, very glad to be here as one of you."
He expressed his desire to follow the example of Bishop Hurley, who has been "such a good bishop, so loved", and in "continuing to build the Body of Christ" in the Diocese of Darwin.
THE ISSUE OF THE FIFTH OR THE SEVENTH BISHOP OF DARWIN
The numbering of bishops in order of lineage is more common in younger countries than in Europe and other older countries where the Church was established many centuries ago, where records can be imprecise. In Australia, episcopal lineage is recorded in The Official Directory of the Catholic Church in Australia, which lists the recently ordained Bishop Charles Gauci as the seventh Bishop of Darwin. But what does this actually mean? Looking to his predecessors:
Bishop Joseph Serra OSB was consecrated in Rome to be Bishop of Victoria, a settlement at Port Essington. He did not make it past Perth.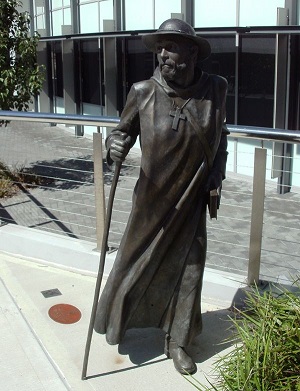 Statue of Bishop Salvado OSB
Bishop Rosendo Salvado OSB was consecrated to replace Bishop Serra but by the time he reached Perth the military had departed Victoria at Port Essington and there were no known Catholics in the diocese. He did not venture further than New Norcia.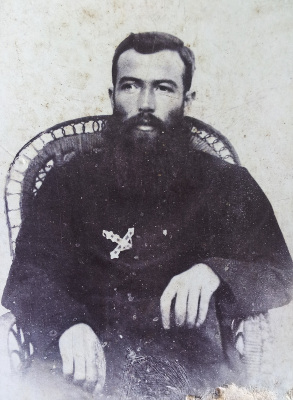 Bishop F.X. Gsell MSC
The name was changed to Victoria-Palmerston (the name of the growing township at Port Darwin, not the present-day satellite city of Palmerston) and this was the name of the diocese when Fr Francis Xavier Gsell MSC arrived as Apostolic Administrator.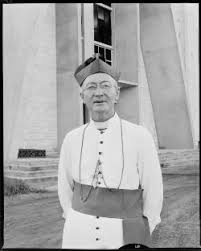 Bishop John O'Loughlin MSC
When Fr Gsell was appointed bishop, he asked for the name to be changed to Darwin as, by then, the name Palmerston had fallen into disuse.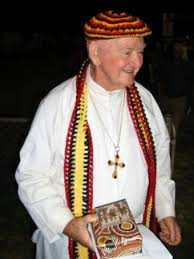 Bishop Ted Collins MSC
So, in terms of its name, Bishop Charles Gauci is the fifth Bishop of Darwin, following upon Bishops Gsell, John O'Loughlin MSC, Edmund Collins MSC, and Eugene Hurley.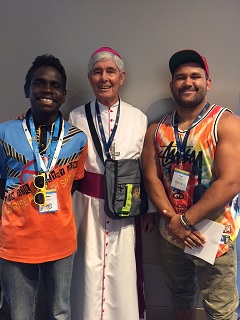 Bishop Eugene Hurley
In terms of taking possession of the See of Darwin, Bishop Charles Gauci is the fifth Bishop of Darwin.
In terms of exercising the ministry of the Bishop of Darwin, Bishop Charles Gauci is the fifth Bishop of Darwin.
In terms of episcopal lineage defined solely by appointment, Bishop Charles Gauci is the seventh Bishop to the Diocese of Darwin, previously the Diocese of Victoria-Palmerston, and initially the Diocese of Victoria.
By episcopal ordination a priest becomes a bishop. By taking possession of a diocese, he becomes its bishop.
In terms of appointment and episcopal consecration/ordination, Bishop Charles Gauci has been appointed seventh Bishop of Darwin and its earlier designations. But because Bishops Serra and Salvado never took possession of the See, it can reasonably be held that Bishop Charles Gauci has become the fifth Bishop of Darwin. The Council of Trent required bishops to live in their diocese, which Bishops Serra and Salvado never did.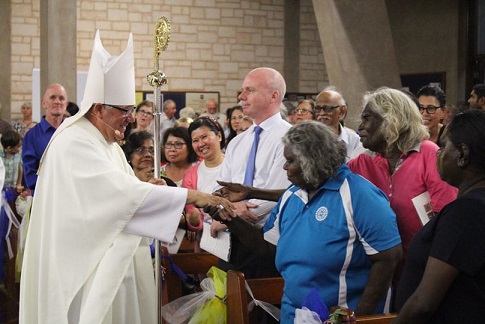 SUMMARY
Bishop(s)

· Charles Victor Emmanuel Gauci, Bishop (66.50)

· Daniel Eugene Hurley, Bishop Emeritus (78.44)

General Information

· Type of Jurisdiction: Diocese

· Metropolitan: Archdiocese of Adelaide

· Rite: Latin (or Roman)

· Country: Australia

· Square Kilometers: 1,346,200 (519,969 Square Miles)

· Official Web Site: http://www.darwin.catholic.org.au/

· Mailing Address: Bishop's House, G.P.O. Box 476, Darwin, N.T. 0801; 2 St. John's Court, The Gardens, Darwin, N.T. 0820, Australia

· Telephone: (08)8942-6000

· Fax: 8942-6060
Historical Details
Vicariate Apostolic of Essington
Diocese of Victoria
Diocese of Victoria-Palmerston
Past and Present Ordinaries
Historical Summary
Date

Event

From

To

Vicariate Apostolic of Essington

Erected

Archdiocese of Sydney

Vicariate Apostolic of Essington (erected)

Diocese of Victoria
Elevated

Vicariate Apostolic of Essington

Diocese of Victoria

Diocese of Victoria-Palmerston

Name Changed

Diocese of Victoria

Diocese of Victoria-Palmerston

Diocese of Darwin

Name Changed

Diocese of Victoria-Palmerston

Diocese of Darwin