Current News
Details

Published: Monday, 08 October 2018 22:20
THE STORY OF THE CHEF AND THE NURSE - OLSH RANDWICK PARISHIONERS

with thanks to Tony McNamara, OLSH Randwick Parish News
It's not often now that people have the same job career all their adult lives. Less so when they are husband and wife. Welcome to that couple - Ratu (Danny) and Sera Peniniunitoga, who have also lived in the same house since arriving in Australia in 2006.
But back to the beginning. Danny's father was a seaman, with a stay at home mother. Danny is the eldest of three boys, one still living in Fiji and the other now deceased. Danny attended the parish primary school – St Agnes - in Suva, Fiji's capital. The Columbian Missionaries founded the parish in 1950 and it is now administrated by our Missionaries of the Sacred Heart. Fr Kevin Barr, well known among Randwick's parishioners worked among the poor population in Fiji. There are many Catholics in Fiji but many more in other Christian denominations.
Leaving school at year 6, not unusual for boys then, Danny worked with a builder for a little while and at age eighteen in 1975 he joined the Fijian Army. The Fijian Army is one of the smallest militaries in the world.
Danny also travelled to New Zealand with the Army as part of a learning program training to be a chef. In 1979 he left the Army and worked on ship building sites and also as a cook on coastal boats (there are more than 300 islands comprising Fiji) for ten years, joining the Army again as a chef.
Sera attended Lautoka Primary School and did her secondary studies at Ballantine Memorial School – a Wesleyan school for girls wishing to be teachers or nurses. She chose nursing. They were married in 1986 at St Agnes Church.
In 1989 Danny was back with the Fiji Military Forces and went on peacekeeping duties with the United Nations to the Middle East.
In the meantime Sera worked at the only psychiatric hospital in Fiji and by 2006 was the hospital matron. She then travelled to New Zealand to do a conversion course which enabled her to work in Australia.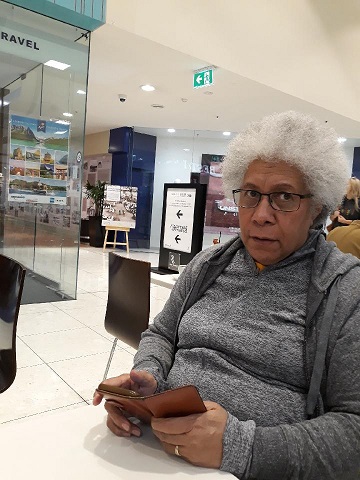 By then Danny and Sera were planning whether to stay in New Zealand or move to Australia. Warm weather won the day for Australia, and they moved to KIngsford . Sera with internationally recognised nursing qualifications had also been offered a nursing position at Prince of Wales Hospital and came to Australia in 2006. It was a year later when Danny was able to come and resumed his career as a chef. They are now proud Australians, Sera a citizen from 2009 and Danny from 2011.
They became parishioners of OLSH. For some time they would go to St Michael's Daceyville where the Rosary and Adoration was held each Wednesday. It reminded them of a similar practice in Fiji where the Pilgrim Statue of Mary and the Rosary recitation was held in various homes and it helped develop family friendships. But OLSH with its various other activities, especially the Bible Study program attracted Danny and Sera.
Danny says there are only one or two Fijians attending OLSH although there is a monthly Mass at the Holy Name of Mary Church at Hunters Hill for the Fijian community. They have four children. Three children – three girls and a boy and seven grandchildren. Australia is their home. But part of their heart is still in Fiji.