Current News
Details

Published: Monday, 24 September 2018 23:18
LETTER FROM VIETNAM: HO CHI MINH CITY, FORMATION - FROM 'UNCLE BOB' IRWIN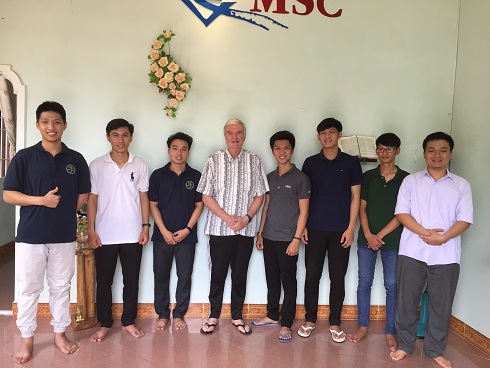 Greetings from Saigon (Ho Chi Minh City). I hope you are well..health seems more and more important these days, eh?!...so just to get mine out of the way...I am doing fine, thanks. Pain killers greatly reduced. Only issue is the ears and AGING. Ears will probably annoy for a while yet.
Anyway, here we are again. And have things changed? Too right! New Provincial, Chris McPhee, replacing John Mulrooney: new leaders here including Hoang replacing Thoi (who is still recuperating in Sydney but we are very much looking forward to his return). Schoolies would know the wonderful experience of watching your young of past years now taking over the responsibilities of leadership...so noticeable here in MSC Vietnam...and as it should be, too, thank God.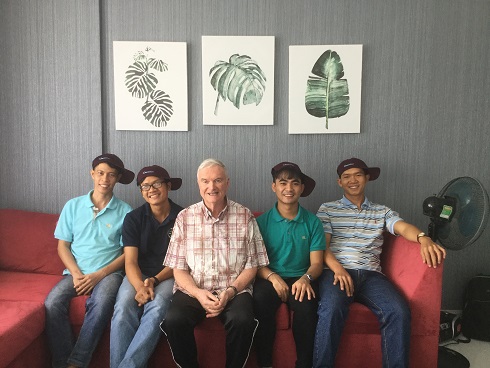 The welcomes back from the MSC here were humbling, if you are the humble type! Hoang found me a beautiful brand new apartment, in a huge new block near the airport(but not on the flight path!) with all the appropriate noises of Saigon....traffic, horns, dogs, roosters, out door cafes, and an added bonus of the army 5.15am bugle from the army barracks next door. All easy to get used to...nowhere in HCMC is quiet!!
The community is steadily growing with ordained working/studying here, Rome and Oz, novices in Philippines, 14 other professed in student houses, 8/9 in pre-postulant house. Re the pre postulants house.....there are 9 there and more to come.....it is a new venture and Chung Tran is the leader there. We have just been informed that he has received the top mark in the graduating class of the Dominican Theological College in Saigon.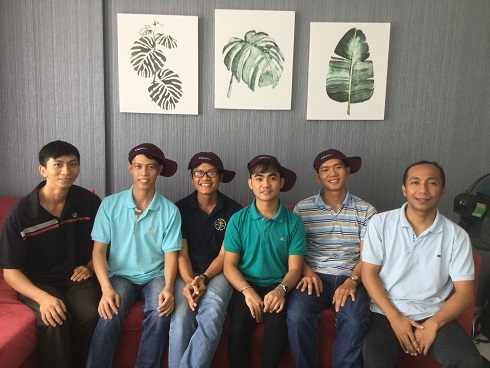 Postulants' joined by deacon Danh(awaiting visa for Bathurst Island)
..and the big news is that it is hoped to soon start building the student house big enough for all....but like the government approvals for us, there are always unexpected hurdles to jump...the Vietnamese way?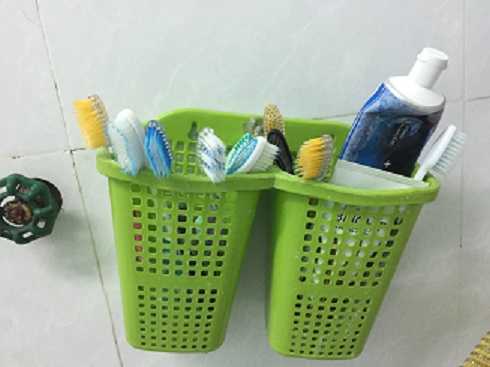 Illustration of community living, pre-postulants' toothbrushes.
We have celebrated National day, remembering Ho Chi Minh's declaration of independence and the defeat of the French colonialists. Currently the country is moving to the mid autumn festival and those awful moon cakes....but I have found one with chocolate, at last.I welcomed Fr Peter Casey and family from Brisbane recently and over the next weeks/months we will welcome Chris Chaplin, then Gerard Bourke from Monivae to put the icing on the cake for IELTS preparation(He teaches IELTS to MSC India), and later on, my brother John and Lee-Anne and some of the relations. When Chris C comes there will be a huge gathering of Chevalier family for a days recollection and celebration on this our 15th year, including all our guys (professed and those many still thinking about it), OLSH, MSC sisters, large number of lay MSC, and will include a commitment ceremony....truly blessed and a great photo op.
Gathering of MSC students in various stages of formation, plus some lay MSC, and three OLSH and three MSC sisters...at day with Chris Chaplin. Note how I just blend in, looking just like the Vietnamese!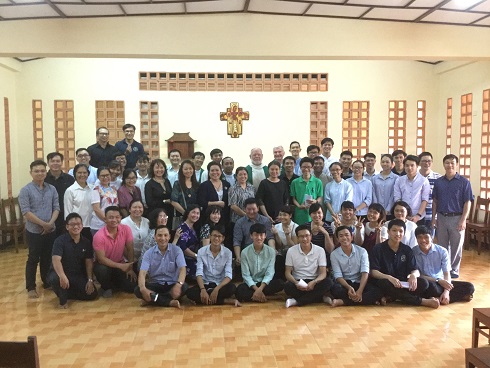 The new academic year is well and truly started for our men and for all the other students in Vietnam...more than a third of the population are in school, but across the Provinces here they started with a lack of nearly 76,000 teachers (you can guess where!)...Vietnam, small in area but 90,000,000 people...Saigon maybe 10,000,000..seems like 11,000,000 motor bikes. I am still a bus man when I can. Trip to downtown is 35 cents, beats the 1 and half hour walk.
Lots of love to you. I feel very blessed to be here. Hope this gets through. Stay well, and take care and God bless and keep you. Uncle Bob.