Current News
Details

Published: Monday, 24 September 2018 07:27
CENTENARY OF THE CONGREGATION OF THE HANDMAIDS OF OUR LORD, PNG, ANCILLA DOMINI, A.D. SISTERS.
The Congregation of the Handmaids of Our Lord (Ancilla Domini- A.D. Sisters) was founded in Papua by Archbishop Alain Marie Guynot de Boismenu MSC, the Vicar Apostolic of Papua in 1918.

Six young women, five from Papua and one from Thursday Island, made up the founding group. They were put under the Daughters of Our Lady of the Sacred Heart (OLSH) for their formation. These women made their first profession on November 30th, 1920.
About a year later a young French lady joined the Congregation and became the first superior. She was Mother Marie Therese Noblet.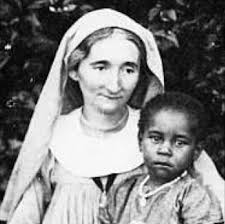 The Congregation was founded to answer a need in the young Church in Papua. The Sisters were to provide support for the priests, especially those working in remote, isolated areas. The Sisters opened schools in the stations, provided some medical services to the people, took care of the Church, gave religious instructions, walked to the villages to visit the people, made gardens to feed the station personnel, cooked and did house- keeping for the priests. At the motherhouse, a place was built for sisters to take care of orphaned babies.
In 1956, the Congregation began to move its headquarters and novitiate to a site just outside of the capital, Port Moresby. This became known as 'Nazareth'. It was easier for the sisters to make use of all the opportunities available to them to obtain an education.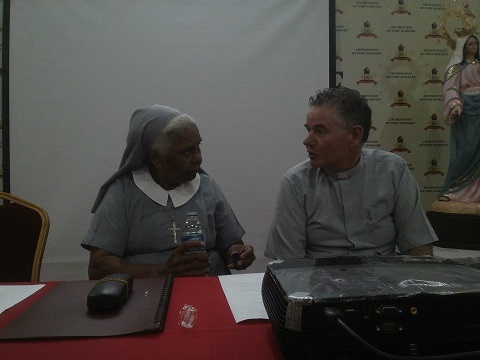 Sister interviewed on Radio Maria by Ben Fleming MSC
In 2003, the ministry started getting sisters from Australia, France and also Papua New Guinea. The Sisters are now working in Papua New Guinea and in Australian in seven different dioceses. Their ministries include teaching, nursing, pastoral work, child-care, adult literacy programmes, Health Awareness (Primary Health Care), counselling, co- ordination of two pastoral centres and serving at the Apostolic Nunciature.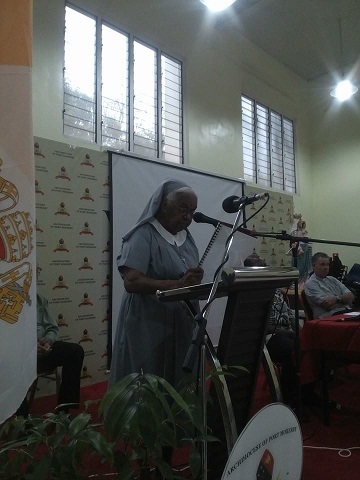 The present policy for accepting members into the congregation is that the young women must have completed at least Grade 10 and satisfy a number of criteria. The initial formation commences with a 'Come and See' Programme, followed by the Postulancy, the Novitiate and six years of temporary profession which can be extended up to nine years.
To work effectively in their ministries to help bring about the Kingdom of God, the sisters must keep in step with the progress of society. This is being done through the upgrading of academic qualifications, practical training and more solid religious/ spiritual formation.