Current News
Details

Published: Wednesday, 12 September 2018 22:11
MSC INTERNATIONAL CONFERENCE, APIA, ASIA, PACIFIC, AUSTRALIA, 2018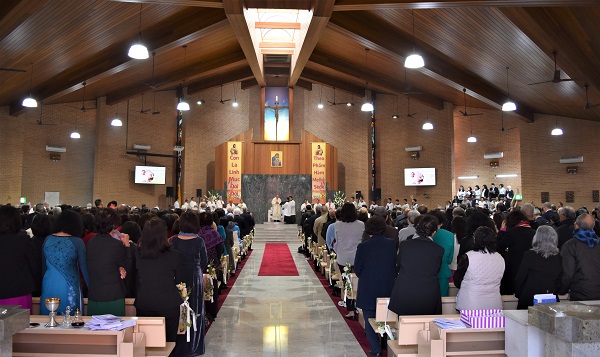 International MSC members from PNG, Fiji and the Pacific, Philippines, Vietnam, India, Korea, Japan, Indonesia as well as from the African Union, arrived in Sydney for a conference this week and extending into next week. It is the 40th anniversary of these meetings. The special focuses are formation and justice.
Australian Provincial Superior, Chris McPhee welcomed visitors. The Deputy, Steve Dives, was MC.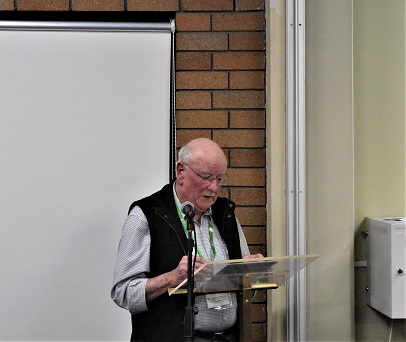 Visitors to this site might enjoy the opening address from Brian Gallagher to find out what are some of the current emphases of Heart Spirituality significant for Missionaries of the Sacred Heart and formation.
APIA conference 2018
40 years of APIA
Changing approaches to MSC Formation
A forty year anniversary is called a Ruby anniversary. We are familiar with the 50 year anniversary called Gold and the 25 year called Silver. 40 years is Ruby.
A ruby is a striking red-coloured gemstone, RED, the colour of love. The symbolism of a ruby stone is the flame of love burning within us and in all people. The C16 Carmelite mystic, John of the Cross, wrote a poem that he called The Living Flame of Love. This is the last verse:
Your fragrant breathing stills me
Your grace, your glory fills me
So tenderly, your love becomes my own.
'Your love becomes my own' could well be an MSC motto. Indeed, a favourite scripture text of Father Chevalier was
In this is love: not that we loved God, but that he loved us.
We love because God first loved us. I John 4: 10, 19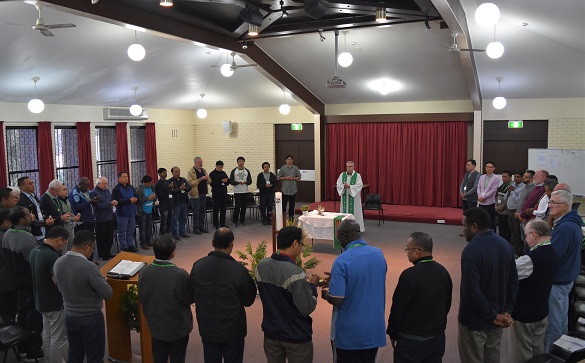 This love of God was revealed to us in the Heart of Jesus. In Father Chevalier's own words (in his book on the Sacred Heart):
The heart of Jesus is the heart of God,
the centre of divine love,
the means by which the Incarnate Word loves us...
In this heart, God gives himself completely.
Yes, God gives himself completely.
God who is wholly love
experiences a hunger and thirst to give himself..
God wants to overflow and spread himself. page 277
This is the love of God that we live, preach, and share with other people – and have done for much longer than 40 years. We believe and live that 'God's love has been poured into our hearts through the Holy Spirit that has been given to us' (Romans 5:5), indeed 'God is love' (I John 4:8). All God knows is to love: God gives Godself to us in creation, in incarnation, in the life of grace (the gift of the Spirit), and in final fulfilment. In our MSC life and spirituality, we focus on God's loving self-giving: 'your love becomes my own'. This is the foundation of our lives, our relationships, our ministry and our heart spirituality.
Sadly, this foundational truth was lost sight of for many years -- in religious life and in formation for religious life, even in MSC circles. I'll explain:
Two major influences in the history of religious life have been the Rule of St Benedict and the Spiritual Exercises of St Ignatius. Very early, St Benedict asked his monks for regular 'manifestation of conscience' to the Abbot or to a wise elder. This was meant to be separate from confession (reconciliation), but its effect was to emphasise the external practices of living religious life or keeping the rule. The focus of religious life became a person's behaviour, not his relationship with God or his inner life, not God's love and God's call. This overflowed into most other religious congregations.
Later the Spiritual Exercises of St Ignatius became very popular in religious formation. Though it was not Ignatius' intention, what happened was that many treated Ignatius' account of his religious experience as a series of prayer exercises that other people were expected to undergo. Again, the focus became more on the externals, not the prayer experience. For example, Ignatius encouraged a beautiful prayer called the Consciousness Examen, listening contemplatively to God's presence and invitation in my daily life. His focus was on God's gift and God's invitation. Somehow, this became what is called an Examination of Conscience, focusing rather on what I have done well and done poorly during each day. When I entered the MSC novitiate (admittedly, about 60 years ago), my novice master told me within the first week that my biggest fault was that I was too impatient. I had to work hard at slowing down and becoming more patient. I was professed and ordained before I saw this priest again, seven years later. The first thing he said to me was 'how is your impatience?' That is what I mean by a focus on external behaviour, rather than on God's love first. It seems to me that this focus dominated in religious life and formation for years. Maybe there are elements of such a focus with us still.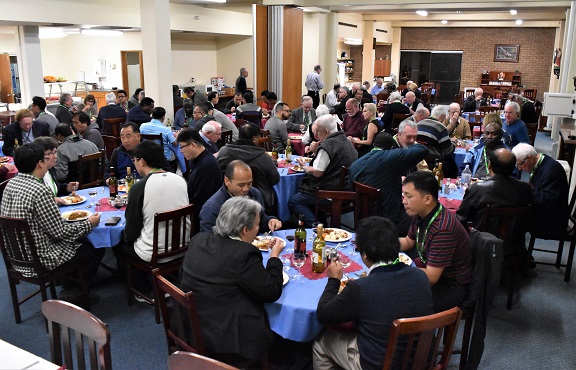 If formation focuses on behaviour only, little real formation happens. Personal formation, growth, cannot be forced, only facilitated and supported. A focus on external behaviour addresses institutional issues, but does not address the underlying personal issues around the deeper places within a person that determine one's behaviour. There is a well established psychology around the human experience of inner freedom that is basic to inner personal growth. Maybe enough to say that all of us are essentially free, created free, but, effectively, our freedom is limited – we are also unfree. The best-known example is Paul's statement:
I do not understand my own actions.
For I do not do what I want, but I do the very things I hate...
I can will what is right, but I cannot do it.
For I do not do the good I want,
but the evil I do not want is what I do. Romans 7:15, 19
I'm sure we can all identify with that: it is the human experience. Why do we sometimes find ourselves doing what we really don't want to do? Because there is something else in us, deeper inside our make-up, that is not free. And so, our motivation is mixed. Only God's love can set us free. Focus on behaviour alone will not bring about any growth in inner freedom.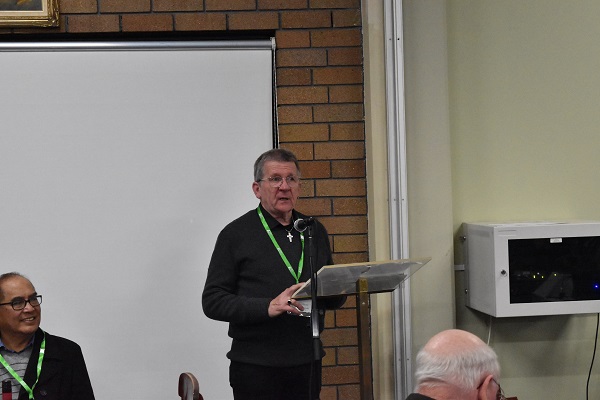 Claude Mostowik on Justice
In our formation, attention to behaviour is important, of course – it is important that a novice or seminarian keep the rule. But if some young fellow has difficulty keeping the rule, or maybe shows some strange unacceptable behaviour, the formator's focus on changing his behaviour, in itself, will not bring about any real change. Because external behaviour flows from some inner dynamic. In my early years of formation, I made no progress at all on my impatience to get things done to become an MSC. These days, I still like to get jobs done, but I'm quite patient now – not because I fixed the problem, but because gradually, over many years, God's love healed the deeper place in me that had given rise to the impatience. My external impatient behaviour came from something in my inner life that I had absorbed as a young fellow when I earned affirmation by doing things quickly and successfully. In other words, I was not free in my inner life.
John of the Cross' poem Spiritual Canticle, speaks about that, too:
You looked with love upon me
this mercy set me free
held in your love's embrace
to lift my eyes adoring to you face.
Only God's love sets us free. In the experience of God's looking upon us with love, we are set free. Convinced of this, Father Chevalier wrote that God's love, revealed in the Heart of Jesus, is the answer to all ills in the world, the mal moderne. I'm sure Chevalier included all the personal 'ills', the ills inside our hearts, as much as the ills in society. He knew that when we know God's love in our lives, then we are healed and freed. In our relationships, we become more compassionate, the MSC virtue.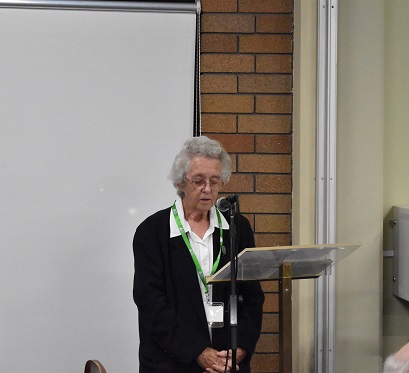 Sister Tess Ward, OLSH Provincial Superior
Though we have always believed in and preached the love of God, I suspect that we often acted in a way that imagined we had to earn this love from God. The shift back to a primary focus on God's love has been gradual over the years, despite its emphasis in the writings of John of the Cross and Father Chevalier.
As you know, Jules Chevalier wrote extensively in books and letters, but most of his writing was overlooked in the early years of the society. It is not uncommon, apparently, that a Founder's vision for the religious group that he begins is not fully appreciated initially. Father Founder's initial Constitutions were drastically revised by an early General Chapter, for example, omitting that devotion to the Sacred Heart was the remedy for the ills of the time. His Constitutions were reclaimed only much later. There has been some wonderful work in the study and translation of Father Chevalier's writings in recent years. This work is slowly permeating the whole congregation.
The first APIA conference, initially called JAPPI (Japan, Australia, PNG, Philippines, Indonesia) was held in Baguio City, PI in 1978. JAPPI became JIPPA by the time of the second conference in Rabaul, PNG in 1980. I well remember some of the colourful characters of those days: Pedro Arguillas, rector of the seminary in the Philippines, Lucas Matlatarea, novice master in PNG, Jos Swartan, seminary rector in Indonesia, Andrew Pong, PNG Provincial, Frank Quirk beginning the first novitiate in Japan. And many others.
In those conferences, there was strong emphasis on our MSC spirituality, community life, and pastoral involvement, but what we talked about was mainly the structures of our formation houses and their regime – the focus was mainly on the externals, not the inner experience of the young men in formation. And I don't recall that we knew much about Father Chevalier's writings.
I don't think Chevalier wrote directly on formation, but he certainly wrote on his vision for the congregation and the kind of men he wanted MSC to be. In 1978, we were a long way from this, for example:
The heart of Jesus is the heart of God,
the centre of divine love,
the means by which the Incarnate Word loves us...
His heart is the sacred bond
uniting heaven and earth
and binding all things to the One
from whom everything flows.
In this heart, God gives himself completely.
Yes, God gives himself completely.
God who is wholly love
experiences a hunger and thirst to give himself...
God wants to overflow and spread himself.
And he has overflowed onto the world
through his Word made flesh.
Again, also from Chevalier's book on the Sacred Heart:
It is through the heart of Christ
that the love of God, God himself,
pours himself out on the world and on the human race.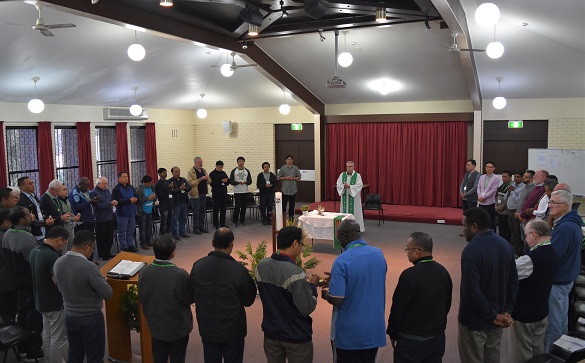 In fact, the move back to a focus on the love of God in our hearts has been given quite a boost in recent times by our Holy Father Francis. In his encyclical Laudato Si (2015) on the care for our common home, Pope Francis stresses God's love for all people and all creation in sentences like 'God's love is the fundamental moving force in all created things' and 'Every creature is the object of the Father's tenderness'. (#77) The Pope's emphasis on the inter-connectedness of all creation – which includes all people -- united in God's love, is the foundation of his ecological theology. In recent times, it has given encouragement also to a feminist theology, acknowledging the equality of all people, men and women. It is very much our MSC way, the way of the heart.
I believe – and I think the Pope would agree – that God's love is the foundation of all of our theology, our religious life and our approach to formation.
Here is a suggestion about different approaches to formation:
Approach focusing on behaviour

Approach focusing in inner growth

The main thing about Christian life / religious life is right behaviour

What a person does is primary

Emphasis on 'try harder', self-control – holiness is about self-discipline and mastery

Right behaviour earns praise, wrong behaviour earns punishment

The risk is a sense of God dominated by fear and judgment

Formator's role is to lead others towards right behaviour – keep the rule

The main thing about Christian life / religious life is grace

Who a person is is primary

Emphasis on allowing God to be God

Trusting God's call and God's love leads to inner freedom

Sense of God imbued with confidence in God's love and mercy

Formator's role is to facilitate and foster the experience of God's unconditional love
In our formation programs, I know that there is much else that needs to be emphasised – community life, study, ministry, etc. But I'm convinced that, from the very beginning of formation, we need to encourage and foster personal relationship with God, a commitment to prayer, and openness to an experience of the love of God for each one of us. In Evangelii Gaudium (#8), Pope Francis says that, only when we know this love of God, will our commitment and our mission, our care for other people and our concern for justice bear good fruit:
Thanks solely to this encounter with God's love (the Pope is talking of a person's inner experience), which blossoms into an enriching friendship, we are liberated from our narrowness and self-absorption... Here we find the source and inspiration of all our efforts at evangelisation.
Thank you for the invitation to be with you this evening. APIA is a wonderful institution: in my experience, the opportunity to share with confreres from other countries and other cultures, united in common commitment and common endeavour, is itself a wonderful blessing. I wish you a happy ruby anniversary.
Brian Gallagher msc September 10, 2018