Details

Published: Monday, 27 January 2020 22:02
GUATAMALA MARTYRS, 3 MSC MARTYRS, 7 LAY MARTYRS, 1980-1991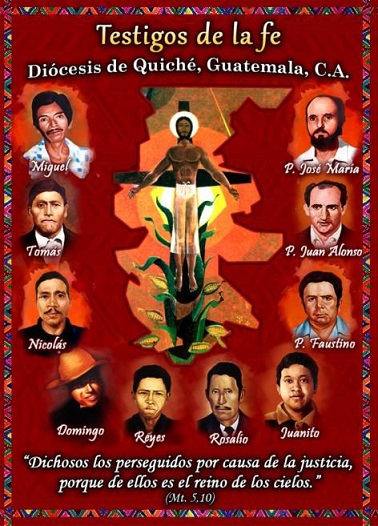 Visitors to the site will have been following the processes for beatification of our martyr; the Spanish Martyrs of Canet del Mar during the Civil War have been beatified.
Here is the latest news from the General Administration concerning Guatamala.

Pope Francis approved last Thursday, January 23, the decrees of the Congregation for the Causes of Saints that recognize the martyrdom of our 3 priests and 7 laymen killed in Guatemala between 1980 and 1991 during the Civil War of Guatemala.


The decree signed by the Pope recognizes "the martyrdom of the Servants of God José María Gran Cirera and 2 companions, professed priests of the Missionaries of the Sacred Heart of Jesus and 7 lay companions, killed in hatred of faith in Guatemala between 1980 and 1991".

We are glad for the testimony of our missionaries. The Philippines Province has created a Vocations :Poster incorporating the Martyrs.